Is Uber's Massive Settlement Good for Drivers or Passengers?
385,000 drivers won $100 million and a few concessions.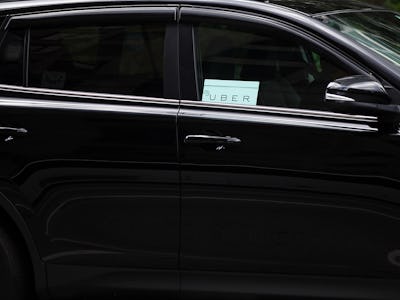 Getty Images
Uber's business model will live to fight another lawsuit. On Thursday, the ride-sharing company agreed to pay $100 million to settle a class-action lawsuit filed by drivers in California and Massachusetts. The agreement allows the company to continue to classify drivers as independent contractors, not employees; Uber says this encourages flexibility, but the drivers claim it works to deny them benefits, particularly the reimbursement of expenses.
With the settlement, Uber has beaten off one of the largest threats to its business model, though lawsuits in states like Florida, Arizona, and Pennsylvania remain pending. Shannon Liss-Riordan, the attorney for the drivers, was quick to emphasize that the settlement did not preclude other lawsuits challenging the independent status of Uber drivers.
"Importantly, the case is being settled — not decided," she said.
As part of the agreement, Uber is also making a few concessions to worker grievances. The company has long faced criticism for not explaining why it deactivates some drivers' accounts, so it is now promising to do so in at least these states. It also committed to helping form drivers' associations in California and Massachusetts that would let the workers collectively bring concerns to the attention of management, though not bargain for contracts, like a union.
The settlement reflects a definite challenge to Uber's unilateral power over drivers, but it also underscores the difficulty of initiating even promising legal maneuvers against massive companies. Uber is currently the largest private technology company in the world, with a valuation over $65 billion. These virtually unlimited resources allow it to string along the lawsuits brought by the newly formed drivers' groups.
In her statement, Liss-Riordan cited a recent federal appeals court challenge to the right of the drivers to form a "class" for the purposes of a "class-action" as another potentially insurmountable hurdle for the lawsuit. It's clear that, considering the enormous precedent at stake for Uber, even making it to a legal verdict would take a huge investment that few drivers can ill afford to lose.
Uber's CEO Travis Kalanick un-ironically explained the message of the case as a victory for the drivers.
"Drivers value their independence — the freedom to push a button rather than punch a clock, to use Uber and Lyft simultaneously, to drive most of the week or for just a few hours," he said in a statement.
Kalanick did concede that Uber may have something to learn from the massive driver lawsuit, which brings payouts to more than 385,000 drivers.
"That said, as Uber has grown — over 450,000 drivers use the app each month here in the U.S. — we haven't always done a good job working with drivers," he wrote. "It's time to change."
Though, with a series of lawsuits challenging drivers' statuses as independent contractors in the United States as well as a unionization movement and large protests objecting to recent driver pay cuts, the relationship between Uber and its drivers seems unlikely to un-sour in the near future. It's only clear that this settlement doesn't really settle anything at all, and both Uber and the drivers have lived to sue another day.