Suspected Employee Suicide at Apple's Cupertino Campus
A man was found dead in a conference room.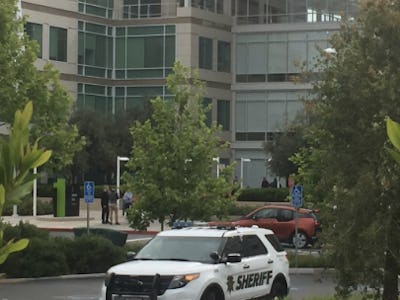 Matt Keller/Twitter
A person was found dead in an Apple conference room at the company's Cupertino campus this morning.
Around 8:35 a.m. Pacific time, an emergency call brought authorities to the Apple headquarters. According to a sheriff's dispatch call obtained by TMZ, a female employee was involved in an argument on the campus and was escorted out of the building by Apple security.
Dispatchers said over the police radio that a body is in one of the conference rooms with a gun, the Mercury News reports.
The complete police scanner audio from TMZ is as follows:
At Apple campus Infinite Loop, for a 10-56 attempt. Female employee bleeding with a head wound to the head, possibly has a gun. Her, looks like security was escorting the employee down and the Westside units are just now arriving. I do have further, they are advising that there's a body in one of the conference rooms with a gun so we're not really sure if there's multiple people involved.
According to Gizmodo, police code 10-56 means suicide.
At 11:35, the Santa Clara County Sheriff's office held a press conference. A representative from the sheriff's office confirmed that the deceased man was an Apple employee and called the death an "isolated incident." It was also confirmed during the press conference that no one else on the campus or in the public was at risk.
According to the statement, the case was handed off to the coroner, who will release more information about the cause of death. The sheriff could not confirm cause of death, exact location, how many people were involved, or other information because it is an ongoing investigation.
The campus is still open, and the death comes one day after Apple's earnings call reported a 13 percent drop in revenue.