Facebook CEO Zuckerberg Will "Absolutely" Let His Kid Play Virtual Reality Games
The Facebook CEO shared that _Minecraft_ is coming to Samsung's Gear VR.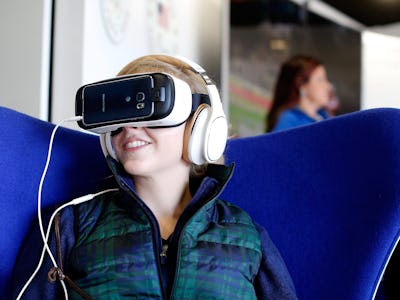 Scott Eisen/Getty Images 
Ahead of the CEO's earnings call today, Mark Zuckerberg took to Facebook to share the announcement that the Microsoft-owned game and mobile phenomena Minecraft is available today for Samsung's Gear VR headset.
While the game is still being developed for a more immersive experience in Facebook's own Oculus Rift headset, today the game's creators at Mojang said Minecraft is available as a virtual reality game on compatible Samsung phones (the Galaxy S7, S7 Edge, S6, S6 Edge, and Note 5) through the Oculus store. The game is said to have the same features as the pocket edition and can be played cross-platform with other mobile and Windows 10 desktop users.
Although Zuckerberg can't play the game on his company's own headset yet, he seemed genuinely excited about the announcement, even taking to the comments to respond to user's questions.
Commenter Levent Alpdeniz asked if the CEO would allow his own daughter, Maxima, to play the game, claiming that games such as Minecraft are "a danger for our future."
"I would absolutely let my children play games," Zuckerberg responded. "That's how I got into computers and programming when I was 10 years old. Without games, I wouldn't be where I am today."
In a fireside chat during Mobile World Congress earlier this year, Zuckerberg talked about the future of VR and admitted that, while it would be hypocritical for him to allow Maxima on Facebook before the site's 13-year-old age barrier, he would consider letting his young daughter use Oculus.
VR manufacturers are historically mute on the subject of whether or not these headsets are safe for children, stating they should be monitored closely and not play for too long. Marsh Davies of Mojang wrote in the announcement post that the company took some of these factors into consideration for people of all ages.
We think it's a super fun way to play the game, but, as with all new technology, read up on the safety information before deciding whether its for you. You should always take regular breaks, as longer sessions can make some players feel a bit icky or strain tired eyes. We've thought hard about this and made loads of tiny tweaks to bring Minecraft to VR, like letting you turn the camera in snappy increments. It's a bit surprising at first but quickly feels normal and is a lot easier on the brain.
In other Zuckerberg news, it seem he is also getting more into dad jokes now that he's, well, a dad. Commenter Andrew Ellison wrote under Zuck's Minecraft post, "Well I should forget my kids getting any chores done now 😑," which apparently made the CEO "laugh out loud."