The Sexiest Scenes in Contemporary Comic Books
We've collected sensual, gorgeous pages from 'Batman', 'Wonder Woman', 'Saga', 'Blankets' and everything in between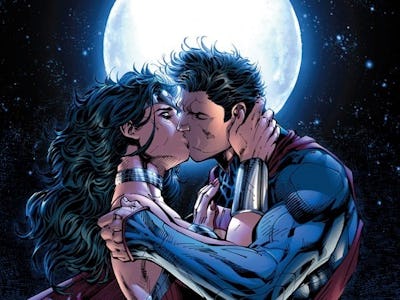 What must a sexy scene in illustrated fiction involve? In her book, The Joy of Writing Sex, author Elizabeth Benedict decrees a few rules on crafting sexual fiction, which include the following dictums: "A good sex scene does not have to be about good sex," "your characters must want and want intensely," and "a good sex scene is always about sex, but also something else."
We've re-explored some of our favorite sexy graphics novels and comics in search of well-crafted, complex scenes that feel sensual, titillating or curiously intimate upon re-reading with those rules in mind. Our research took us from DC superhero comics into fantasy, sci-fi, French language comics involving furries and across titles hailed by critics as serious, intellectual graphic fiction. Every example in this list, of a sexy scene lifted from a comic book, is about sex, as Benedict says, "but also something else."
Niagara Falls, Quelque part entre les ombres
Spanish comic creators Juan Díaz Canales (writer) and Juanjo Guarnido (artist) began publishing their furry-friendly noir comic in 2000. American readers know the comic as Blacksad, as it was titled upon being translated into English in 2010. What translates in any language is Blacksad's particular sensuality, informed by its stunning combination of furry aesthetics and classic noir intrigue. When Blacksad finally meets his match and promises to make her dreams come true, watching him commit to uncharacteristic optimism isn't just uplifting: it's pretty sexy.
A new shore, Fun Home
Alison Bechdel, author of the timeless Dykes to Watch Out For, Fun Home and Are You My Mother? (and yes, one of the minds behind "The Bechdel Test") loves embedding two things in narrative comics: frank sensuality and intertextual references. The images above, which appear halfway through Fun Home, represent the author's sexual awakening as a lesbian. Though her description of the experience — eating out her girlfriend — begins in conversation with the myth of Odysseus, Bechdel quickly changes her text analysis to James and the Giant Peach. While comparing women's genitalia to fruit is not a novel idea, Bechdel does it so vulnerably, and with such honest curiosity, that it's easy for the reader to believe her young, well-read, lesbian protagonist would draw the same conclusion.
Abase yourself, Wonder Woman: The Hiketeia
A quest for power defines both Batman and Wonder Woman. Though they're both heroic figures, they are each represented throughout their comic legacies as enjoying their positions in leadership. That's what made Batman's submitting to Wonder Woman in Wonder Woman: The Hiketeia so stunning and satisfying.
On this page, readers saw Batman, a classically masculine figure, plead for Wonder Woman's protection using (albeit badly) the language of her people. The panel in which he kisses her bare leg is certainly memorable, but it's their exchange in dialogue which makes this page feel so good to read. Wonder Woman does not accept Batman's submission, and that friction defines their relationship.
The Island, Starfire
There are quite a few cringe-worthy details in this scene from Starfire's eighth issue, but sensual cliches are all part of the heroine's smutty, suggestive allure. If you can ignore the fact that Dick Grayson's first name is actually Dick, and gloss over the fact that writers Conner and Palmiotti set this love scene next to a swimming pool (how original), the chemistry between these two heroes is palpable.
The morning after, Rat Queens
Rat Queens is one of the most liberating narratives for female characters on the market. In two silent panels, the viewer gets a glimpse of two of the heroes' sex lives. Each image champions something different: Violet (the redhead in the top panel) gave in to her chemistry with an orc and is now satiated by it, and Betty found a kindred spirit in this girl, and is evidently talking through the morning with her.
What made this scene so emotionally poignant was the follow-up panels, illustrating both Hannah's sexual frustration and Dee's loneliness. In just four panels, Rat Queens sums up its realistic, funny and painful look at female sexuality. Not bad for a fantasy comic, huh?
Falling, Blankets
It's difficult to pull a single page out of Craig Thompson's emotional masterpiece Blankets, but this selection of images encapsulates what makes the graphic novel so satisfying. Thompson's leads, two Christian teens who have been led to believe that sex can only be a source of shame and pain, find new life through exploring each other's bodies.
The novel returns again and again to the image and description of falling snow, and as a result, each sex scene suggests a quiet gentleness. The characters lay naked together as often as they actually have sex. When the novel begins to unravel its protagonist's history of being abused, pages like this become even more resonant, because they depict healthy and affectionate intimacy. Blankets may be sexy, but it will also shatter your heart irrevocably.
Hazel's conception, Saga
What Saga does best, in regard to sexuality, is embed basic language like "fuck" and "dick" and "finish" into emotionally complex stories of domestic love. Alana and Marko, who we see accidentally conceiving their daughter in this scene, are still clearly young adults and are unprepared for how Hazel, an illegal blend of their species, will change their lives once she's born.
The stakes are high in Saga's sex scenes, but they somehow manage to be funny and relatable, despite involving creatures with horns and wings.
The Fiesta Bowl, Jordan W. Lint
Nobody depicts sad men like Chris Ware, creator of Jimmy Corrigan: The Smartest Kid On Earth. Though this section of a page from Jordan W. Lint doesn't illustrate a sex scene, it's a gorgeous example of how visual rhetoric can tell us a lot about a character. We see the story's female character as the male character sees her, and we experience his stumbling thoughts about her in a direct way only comics could deliver. At the bottom of the page is the simplified image of a breast, which appears often in the comic, as a sudden and irrepressible thought from the male protagonist's subconscious.
"Did you fuck her in my bed?", Shortcomings
Tomine's Shortcomings is fantastic, but what elevates this particular page in the comic beyond the others is its energy. The comic follows a young male lead who's discovered photos of his ex taken by a new man. Though he's depicted in panel after panel laughing about the photos with his friends, Tomine begins a slow boil which overflows on this page. Once he's left alone, obsessing over the photos without the help of his friends, Tomine's protagonist silently gets to his feet and finds his ex on the street, accosting her and her new lover with the very question that's been digging at him throughout the entire comic.
This page is sexy because it's a perfect depiction of sexual shame, and the lengths someone might go to in order to confront an ex.
"Was that really necessary?", Batman: Hush
Batman and Catwoman have a long, sexually charged, and contentious history, so readers get a surge of excitement when the characters find themselves on the same page — literally. In this issue of Batman, Catwoman decked Poison Ivy, a sometimes rival for Batman's affections. For once in their dark, complicated lives, Batman and Catwoman looked at each other and agreed that the act was warranted. Finding the two characters in sync, mentally and emotionally, is so rare that it's even sexier than any of the panels which depict them kissing on a rooftop. Sex has always been easy for these two superheroes; it's congruity that eludes them, and this issue felt cathartic in depicting that.