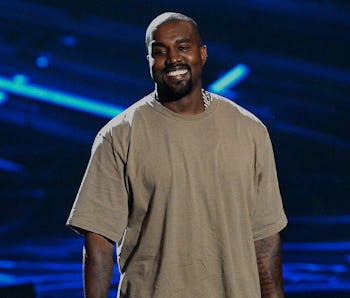 Entertainment
FTC, Kanye West Win in Suit Against Amazon's In-App Purchases
"F*ck any game company that puts in-app purchases on kids games!!!"
Kevork Djansezian / Stringer / Getty
Kanye West knows what it's like living tight on money. He grew up moving around a lot between the homes of his divorced parents, and earlier this year he announced on Twitter that he's $53 million in debt. So, when he tweeted last year his distaste for accidental in-app game purchases, spurred by his daughter North West's shenanigans on a smart device, he was channeling the frustrations of a lot of parents out there who don't feel they've been properly warned about the deceptive practice.
Today, a federal judge came to agree with Kanye and, more importantly, the Federal Trade Commission. The court ruled against Amazon in a lawsuit over billing consumers for unauthorized in-app purchases made by children.
The case found that many consumers were making complaints to Amazon regarding children who were inadvertently purchasing extra items in apps that were otherwise marked as "free." The in-court decision doesn't go so far as to tell Amazon to f*ck off, but it does do well to represent West's 2015 tweets on the topic.
"We are pleased the federal judge found Amazon liable for unfairly billing consumers for unauthorized in-app purchases by children," says FTC Chairwoman Edith Ramirez in a statement. "We look forward to making a case for full refunds to consumers as a result of Amazon's actions."
The judge called on Amazon and the FTC to come up with a precise amount owed to consumers due to these deceptive practices. Apple and Google have already paid out in excess of $50 million as a result of similar lawsuits in years previous.
In-app purchases make for a staggering amount of the revenue generated by the app economy. According to Statista, by 2017, in-app purchases are expected to grow $28.9 billion, which would account for 48.2 percent of total app revenue.
The West family, somewhat ironically, has been benefitting quite handily from this app economy ever since Kanye's wife Kim Kardashian West launched her own app. According to Kim's March tweet, she placed $53 million of her $80 million profits from the app into a joint checking account with her husband, thus potentially bailing Kanye out of debt.
So if it's now the case that, since his wife is banking on in-app income and he's even making a game of his own, Kanye no longer holds disdain for in-app purchases, he should have tweeted so. Because the wheels are all the way in motion now, Ye. They're all the way in motion.