Watch Nine Minutes of 'Pokémon Go' Gameplay
Pocket monsters are coming to your smartphone very soon.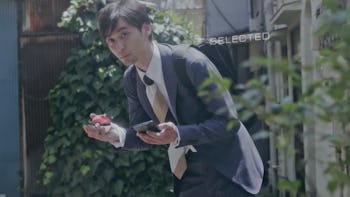 YouTube/ Pokemon
Pokémon Go, Nintendo's first foray into smartphone augmented-reality gaming, should launch sometime this year, and today we got an inside look at some of the exclusive beta footage of the app in action.
We've known since the initial announcement last September that the game would combine a digital Pokémon world with the real world using smartphone's GPS and camera functions.
The app has been in beta testing for a few months in Japan, but the English version just went live for selected users in Australia and New Zealand on Monday. We get a look at the character-creation screens and a little bit of the gym leader and team-selection mechanics. We still haven't seen any player-to-player battle mechanics, so it seems like the main mechanic is going to be finding Pokémon in the wild and capturing them with various kinds of Pokballs to gain experience and expand your Pokédex. The catching mechanic looks to be a little bit like swipe-tossing games like "Basket toss," requiring you to hit the right spot on the Pokémon to capture it. We do get a look at the player battling a gym leader, so it appears that there are battle mechanics in the game that could be expanded on, but they're pretty rudimentary at the moment.
Nintendo is banking on Pokémon Go as pioneering a new wave of augmented reality games, but we still don't know when we'll see a full release. If it's successful, the rest of Nintendo's line of smartphone-games will probably tweak and improve on aspects of it, paving the way for more developers to explore the genre.
Check out the full footage below: