What Will Be Nintendo's Smartphone Game?
The Japanese gaming giant will formally enter the mobile market on October 29. What will usher them in the new era?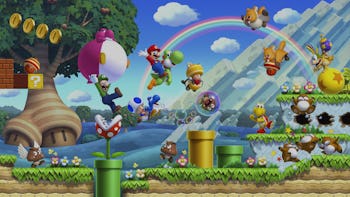 Nintendo
Nintendo has been resistant to release games for mobile, but tomorrow the company is expected to announce its first licensed game for Android and iOS devices. The company recently partnered with DeNA to develop a series of games built specifically for smart devices, meaning tomorrow's game won't be an arcade classic like Donkey Kong.
The company has dominated the handheld gaming market since the Game Boy, and their most recent product, the Nintendo 3DS, has outsold PlayStation 4 and Xbox One. It makes sense they wouldn't want to step on their own toes releasing similar games for smart devices, but the demand for Nintendo on iPhones and Androids has been deafeningly loud. Eventually, they realized how to pursue mobile gaming.
"It was important [for us] to analyze and clearly recognize that smart devices and dedicated video game systems are two completely different things," said then-Nintendo president Satoru Iwata last March. "At a glance, they may appear to be very close."
He added: "Some of you may wonder why it took so long to recognize something so simple. The fact of the matter is, however, I have never heard of anyone who has clarified this point. "
So now Nintendo gets it. So what could we get?
Something we haven't played before
In the same March Q&A, Iwata made it clear that Nintendo doesn't wish to turn smart phones into glorified emulators for old games.
"There have been many cases where games originally made for other devices were simply ported to smart devices," Iwata said. "When I asked myself if the best play experiences these original games contained were incorporated effectively into the smart device versions, I doubted that I could always give a positive answer."
Not Pokémon
Whatever Nintendo has, we can bet it won't be Pokémon. They've already, technically, released games for iOS and Android under the Pokémon brand, like Pokémon TCG and Pokémon TV. A separate game, the augmented reality Pokémon Go, will be launching in 2016.
Super Mario… Something
It would be kind of silly if Nintendo doesn't get into smartphone gaming with their signature plumber doing some app-friendly Mario shit. Gamers are itching to play Super Mario Bros. on the go, but Nintendo wants you to buy a 3DS for that. Maybe it's an Angry Birds ripoff with Mario launching himself out of green pipes?
Mushroom Kingdom Shelter
Have you played Fallout Shelter? It's a neat, cartoony survival simulator like The Sims after a giant nuclear explosion in the Fallout games universe. Could there be a Mario-themed spin in the works?
Game of Wario
It's like Game of War but with Wario in a toga instead of Kate Upton.
Flappy Birdo
It's Flappy Bird but with Nintendo's transgender dinosaur. It'll be massively successful but then will be pulled because it made the developers depressed.
Super Smash Bros. Tap Or Something
Fighting games are getting really popular on mobile. Don't be surprised if they expand Super Smash Bros. to smart phones.
Poker
Nintendo was originally a playing card company.
Halo