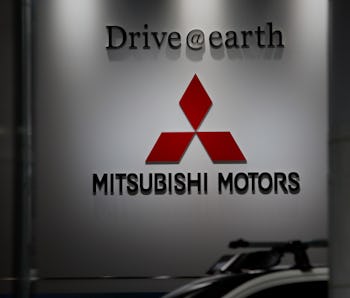 Science
Mitsubishi Cheated Emissions Tests for 25 Years, but Volkswagen's Con Was Still Worse
A battle of emissions admissions.
Getty
Mitsubishi Motors has admitted to a 25-year emissions scandal. This might sound like a big deal less than a year after Volkswagen shocked the world by cheating emissions tests, but Mitsubishi's cheating methods are more reverse deflate-gate than sophisticated and evil German engineering.
Mitsubishi cheated emissions tests by over inflating the tires on four minicar models that are only sold in Japan. The testing method presented better fuel consumption rates than actual running rates, according to a Mitsubishi press release, deceiving consumers and breaking Japanese regulations that were enacted in 1991. Still, 25 years is a hell of a long over-inflategate con.
The misleading fuel tests effect 157,000 eK Wagon and eK Space Mitsubishi models, as well as 468,000 Dayz and Dayz Roox Nissan models that were supplied to Nissan by Mitsubishi. Mitsubishi admitted to its faults on April 20 to some consequence in Japan, but the rest of the world watched with apathy. Today, Mitsubishi established a three-man special investigations committee to sift through the quarter-century of cheating.
Mitsubishi is no Volkswagen
Mitsubishi's 25 years of rule bending is child's play compared to the 11-million-car emissions scandal Volkswagen pulled off for seven years.
Here's a Volkswagen refresher: The EPA tests car emissions using what is essentially a car treadmill that requires the car to be put into a "test mode." Volkswagen engineered an elaborate test mode for their diesel cars that made them appear to operate much cleaner during tests, and then the cars became much more powerful (and much less clean) when taken out of test mode.
Here's the extent of what Mitsubishi did for the past 25 years: over inflated tires.
But as New England Patriots quarterback Tom Brady has proven, inflation levels matter — and it matters as much for easier-to-catch deflated footballs as it does for over-inflated car tires.
Over-inflated tires increase fuel efficiency and thus give unrealistic emissions measurements during tests. The reason why they're unrealistic: As the Los Angeles Times explains, no one should drive with their tires as inflated as Mitsubishi had them in the tests, because over-inflated tires makes it harder to break and can cause the car to drift during quick, sharp turns.
All four vehicles were only sold in Japan. Shares in Mitsubishi have dropped nearly 50 percent since the scandal was acknowledged on April 20, the BBC reports, but it's unclear what will happen to the company in the courts.
Jaded car aficionados might look at the Mitsubishi scandal with uncaring eyes. Still, even if over-inflategate doesn't match the sophistication of recent big-company scandals, 25 years is a really long time to get away with something.