5 Superior Takeaways From PAX East, From 'Borderlands 3' To 'Rock Band''s Weird MMO
We waited in line and played the 'DOOM' beta again! Also, watching bros play 'Rock Band 4' is still awkward!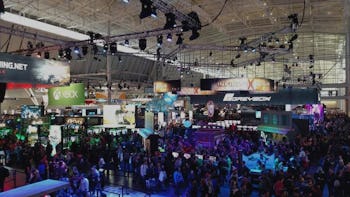 We attended this year's PAX East convention, alternating our time between playing DOOM and Overwatch betas and taking in the gigantic set-pieces installed by Capcom, Ark: Survival Evolved, and Pokemon. The weekend's events, held at Boston's Convention and Exhibition Center, focused on virtual reality, PR spectacles and pushing eSports, specifically DOTA 2, into the mainstream.
We've compiled a list of the most badass stuff we saw at PAX East, including announcements from gaming companies and marketing stunts that will stay with us for years to come.
'Borderlands 3' Is Coming
Gearbox Software confirmed at its panel that the development of Borderlands 3 is underway. Though the game's third installment was "no secret," according to developer Randy Pitchford, the panel also confirmed that Battleborn contains several Borderlands easter eggs.
DOTA 2 Players Are Basically NBA All-Stars Now
Though PAX featured a smaller-than-usual DOTA 2 presence, the dip in interest was only due to the game's gigantic tournament happening in Manila. The convention did stage a small tournament, but Manila stole the spotlight when ESPN included gameplay in its Top 10 Plays ranking. The convention center lit up with tiny screens, as gamers standing around in cosplay watched the footage, cheering when their culture was recognized.
Virtual reality is seeping into everything
PAX employees spent the weekend frantically trying to clear the aisles, as hundreds of gamers waited in line, often sitting in piles and staring at their phones, in order to try the Oculus Rift, Playstation VR, or Samsung's Gear VR. Though some larger titles featured VR demos at the convention, games and "experiences" like Thumper or Job Simulator experienced the same crippling amount of demand.
Rock Band 4 remains not quite cool
Harmonix confirmed an expansion to the game coming this fall, and an online multiplayer version of Rock Band 4 set to drop in time for the holidays. At PAX, the company invited groups of four to come up on its huge stage and play through a song, standing in front of an anxious crowd as if performing at a real concert. Each "band" was asked for its name, and a Harmonix employee brought them up to the stage.
It's not a revelation that the average gamer isn't great at stage presentation, but watching "band" after terrified "band" take the stage to click and shake their way through "Toys in the Attic" reminded us of what Harmonix doesn't want us to remember: playing Rock Band has no bearing on actual musical talent. Although the game is encouraging a new kind of rhythm-based subculture, one which will likely grow in MMO form, that vibe is not really akin to actual, authentic rock and roll.
Horror is fertile ground
The line for Outlast II's immersive demo experience wrapped twice around the game's art installation; and the game itself was downright terrifying. Indie horror We Happy Few was the talk of horror fans at the convention, debuting its revamped (and now lag-free) update at an unsettling booth which boasted a long line of its own.
Let It Die, Until Dawn: Rush of Blood and Dead By Daylight looked and played fabulously, though DOOM was the real belle of the carnage ball, occupying a gigantic space in the corner of the convention center, flanked with lifesize demons. Fans were able to hold replicas of the Big Fucking Gun while awaiting their demo experience, which we thoroughly enjoyed upon early access.
Gun Media released new details on its Friday the 13th game, which looked intriguing but was somewhat overshadowed by Dead By Daylight, which many fans were calling a superior, off-brand Jason Voorhees game.