Ryan Reynolds Won't Stop Being Deadpool, Supports Beer-Serving Utah Theater
Reynolds allegedly gave $5,000 to Brewvies in Salt Lake City, a movie theater fined for serving alcohol during the film.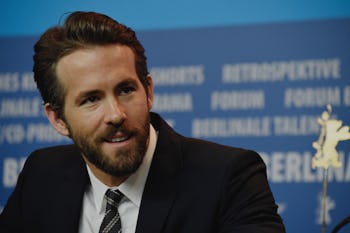 Pascal Le Segretain / Getty
What does a Utah movie theater known for serving beer with its R-rated fare do when it's threatened with legal action? Hope Ryan Reynolds finds out.
Last week, Salt Lake City-based movie theater Brewvies, which specializes in the Alamo Drafthouse model of serving food and booze with a wide range of new movies and special screenings, was slapped with a notice from Utah's Department of Alcoholic Beverage Control: the brewpub and movie theater might lose its liquor license because it showed the movie Deadpool. Why all the fuss? Apparently a Utah law forbids any place to show nudity or sex acts while serving alcohol in the same spot.
Potential fines along with the revoked license range from $1,000 to $25,000, a fee that threatens to possibly shut the theater down for good. But the theater set up a GoFundMe page so patrons could help them reach their goal of $75,000 for legal fees, and it looks like Reynolds, the star of Deadpool*, took notice.
He tweeted out a reference to the debacle on Sunday night, responding to the new on Twitter in a typically sarcastic fashion:
Then, a donation was made for $5,000 on Brewvies' GoFundMe page under Reynolds' name:
It isn't clear whether it's actually Reynolds himself, but that kind of dough is mere chump change for the actor. The success of Deadpool, which now stands as the highest-grossing R-rated movie ever made, snagged Reynolds up to $10 million straight into his bank account, and now a small portion of that is going to Brewvies.
It's a strange story, made stranger still after a report by Salt Lake City's Fox 13, claming that two Utah Department of Public Safety undercover cops actually bought tickets to see Deadpool at the theater, and, presumably, knocked back a couple brews before reporting Brewvies the DABC.
According to the owners of Brewvies, they're threatening to sue in federal court over first amendment rights. Per the GoFundMe page: "The money that we are raising will go towards a legal defense fund to be used for legal fees seeking an injunction against the enforcement of a statute that violates our freedom of speech. If there are any funds left over from our legal battle, we will use the funds for a public celebration of our freedom of speech!"
Here's hoping that celebration happens with a few screenings of Deadpool, a whole lot of beer, and maybe even Ryan Reynolds cracking a few jokes, too.