For Google, More People on Mobile Means "Significant Revenue" on Mobile Ads
It's not the fun moonshot projects but it's the bottom line.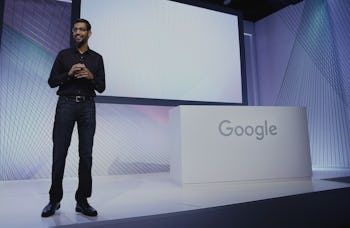 Justin Sullivan/Getty Images
As more of us turn to our phones to go online, Google will look to capture more of that sweet, sweet mobile ad revenue. For consumers, it means the company is going to continue to improve user experience, in the hope that we won't be drawn away to competitors like Facebook, which are bringing more of the internet — news articles and search — inside their own apps.
Today, Alphabet, the parent company of Google, during its Q1 earnings report reassured investors that mobile ad revenue is growing "significantly," which is good because there's been a lot of pressure on the company to grow mobile ad revenue to the same levels that desktop generates. While the earnings report didn't get too specific, Ruth Porat, CFO of Alphabet, was consistently adamant about growth in this segment.
Porat said the company's revenue of $20.3 billion, a 17-percent increase over last year, was largely driven by increased mobile ad revenue, especially given the advantages in location-based targeting.
"Mobile is an example that continues to offer sizable opportunity for revenue enhancement given the increasing ubiquity of mobile use by consumer and the strong location and contextual signals from mobile devices," Porat said on the call.
Alphabet projects such as Nest, Fiber, and a multitude of "other bets," performed better than expected as well, but that wasn't enough to convince Wall Street: The company's shares dipped by five percent today in after-market trading.
Many have claimed Alphabet needs to move away from search and ad revenue, which has been its main driver for many years and made it one of the largest companies in the world.
There are signs that its core business may diminish in the future as more consumers move to apps on phones instead of web browser searches, which has spurred a lot of the change in the company in the past year as the company reinvests in cloud infrastructure.
But until that new revenue source is found, Google is somewhat forced to heavily lean on that massive pool of ad revenue, and mobile is the near-future goal.