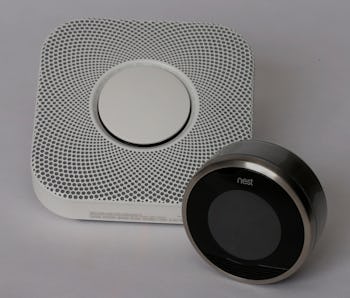 Innovation
Nest's New Update Taps Smartphones to Know When You're Home
Home/Away Assist will help control the Nest devices in your home. 
George Frey
The people behind Nest, the home automation company famous for its smart thermostats you set when you're not at home, announced today they're ready to take you out of the equation altogether.
Its newest products will use your phone's location to know if you're home. (The update also rolled out on Nest's iOS and Android app.) The Nest Learning Thermostat has been using this technology for four years already.
Other products use geofencing technology, which creates a virtual barrier around the property — when you (and your phone) cross the barrier, the system will turn off the lights or turn on the camera, for example. This is an issue when phones die or are left at home. Devices are also equipped with sensors but can sometimes fail at picking up movements.
The new "Home/Away Assist" and "Family Accounts" features use a series of learning algorithms, motion detectors, and everyone's smartphone data to turn settings on and off. While it doesn't track your device, Home/Away Assist uses the location data on smartphones and information from the Nest app to activate the device. Other smart home devices already do this, but the Family Accounts feature allows multiple phones to be connected at once. Nest hopes this will help improve being able to tell if someone is home.
"This is an input that's going to make it more accurate and efficient," Nest Senior Product Manager Greg Hu says in a statement roll-out.
Nest is certainly not the only company creating wifi-connective products. In 2015, the global smart building market was valued at over $7 billion. Researchers expect that number to grow to over $36 billion by 2020.
But, there's also the question of whether hackers can tap into these smart home devices. What makes a smart building "smart" also makes it vulnerable. Products like Nest are created with the best intentions — making homes safer and more comfortable. Yet, they can also serve as backdoors for hackers. These devices are minicomputers, and like all computers smart home devices are subject to attacks and unwanted surveillance from third parties. In 2014, University of Central Florida computer scientists hacked a Nest Thermostat, making it display "Hello, Dave" with the dooming red eye from 2001: A Space Odyssey's HAL 9000.
However, Nest assures in today's announcement that it will encrypt connections and stay up-to-date on the latest threats.