Can 'Luke Cage' Help Marvel Embrace Hip-Hop
Harlem isn't far from 'Daredevil' and 'Jessica Jones', but Luke Cage will be a different kind of Marvel superhero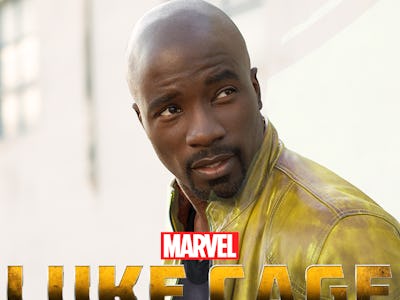 screengonzo.com
Anyone who watched the entirety of Netflix's Jessica Jones can tell you that one of the season's bright spots was Mike Colter's turn as Luke Cage, the indestructible man. Well, now it's Colter's time to shine, as audiences gear up for the September 30 premiere of Netflix's Luke Cage. Though Cage's adventures are set firmly in the same Netflix MCU we know and love, Luke Cage is looking to achieve something different.
Eagle-eyed viewers already got a taste of that flavor at the end of Daredevil's second season, when Netflix snuck in a teaser trailer for the new series. The teaser depicted Cage, a bulletproof black man, calmly enduring gunfire before surging into a clip of Nas' 2003 track "Made You Look".
This brief glimpse displayed a trace of wry humor, and specific cultural relevance, both of which feel like fresh additions to Netflix's self-serious corner of the MCU. Punctuating Cage's appearance with Nas also teased the thumping hip-hop soundtrack which will frame Harlem's newest superhero. As showrunner Cheo Hodari Coker told ComicBookResources recently, "For me, hip-hop has always been black superhero music. And now we have a black superhero that matches the music."
Of course, tracks that kick up the series' energy, and a hero who's not afraid to crack wise will be a great addition to Netflix's Marvel Universe. The chance to see Colter spend a little less time brooding about Jessica Jones, and a little more time kicking ass is also extremely welcome. We're pumped.
So, we have pretty high hopes for Netflix's take on Marvel's Hero For Hire, not least because the growing connection between hip-hop and comics is a recipe for greatness. It's also notable that Marvel's first superhero series will follow a black hero protagonist (Marvel's first since Blade), supported by an all-black cast, and written by the NAACP Award-winning genius who wrote Biggie Smalls' 2009 biopic.
This is bound to be a show featuring a great cast, an enthusiastic helmer, and a soundtrack that's going to help shake up the Marvel Universe.