Watch Two New Teasers for Mr. Robot's Second Season
F Society will be back on July 13.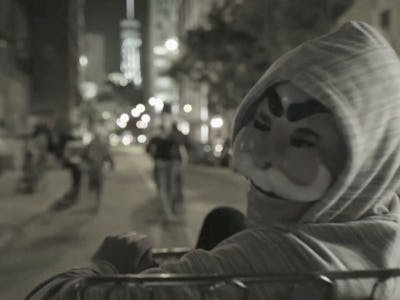 USA
Mr. Robot is back on July 13, and it looks like USA's mind-bending hacking show will stay just as dark, twisted, and exciting as it started. USA set the release date for season 2 today, and put out two short teasers, featuring members of F Society masks riding in shopping carts, creepy business meetings, possible dream sequences, and plenty of existential angst.
We know season 2 will dive into encryption through the eyes of mentally-unstable vigilante hacker Elliot (Rami Malek) and his hallucinatory dead father/alter ego Mr. Robot (Christian Slater), but we have no idea how the big revelation of Elliot's mental break will play out. Safe to say it's going to be a wild ride, with a frighteningly unhinged Tyrell (Martin Wallström) on the loose and punching screens (in the teaser).
Mr. Robot started out as a grittily realistic and surprisingly accurate hacking show, but its intensity, style, and challenging themes basically reinvented the entire USA network. Other than encryption and an interesting character played by Craig Robinson, we don't know where Mr. Robot is headed from here, but we're all on board for the ride. Check out the first teaser, with Elliot back behind his dual-monitors and ready to continue the digital revolution.
The second teaser goes broader — we see all of the major characters struggling with the explosive season finale and questioning their roles in series creator Sam Esmail's dark, nihilistic world.