'Game of Thrones' Star Ramsay Bolton Cast As Hitler In 'Adolf the Artist'
Iwan Rheon, best known for playing dastardly Ramsay Bolton in 'Game of Thrones,' has been cast as Adolf Hitler opposite Rupert Grint in 'Adolf the Artist'.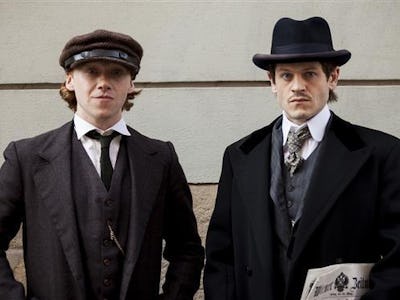 abload.de
On Wednesday, The New York Times ran a piece on Iwan Rheon, the man who plays Ramsay, Game of Thrones' sadistic heir to the Bolton line. Buried in the profile is the news that Rheon has been cast opposite Harry Potter's Rupert Grint as a burgeoning tyrant in an upcoming British TV movie, Adolf the Artist.
While there's still much to learn about the project, the basic plot (and at least one cast member) have been revealed. Adolf the Artist is a comedy that follows a young Hitler as he travels to Vienna in the hopes of developing his artistic skill so he can gain entry to the Vienna Academy of Fine Arts after he's been turned down (spoiler alert: it doesn't happen). The bulk of the story is a historically accurate look at Hitler's youth, "in the run-up to re-taking the entrance exam, burdened by temper tantrums and an oddball dress sense, and desperately trying to improve as an artist and gain recognition."
It's a new role for Iwan Rheon, even if it's not a new position. For his part, though, Rheon — who seems like a totally nice guy when he's un-Bolton'd — handles the hate from fans easily. As he told The Times, he views the title as an honor, saying, "Apparently I'm scarier than a White Walker. And a giant. And a dragon."
That attitude bodes well, since being hated on Game of Thrones hasn't historically gone well for everyone who's born the weight of that dubious distinction. Hopefully, we'll get to see at least a slightly lighter side of Rheon when he tackles the role of a non-dictator in the upcoming comedy.