Why 'High-Rise' Director Ben Wheatley is Making the Best Movies Right Now
We track the career of the filmmaker behind the upcoming thriller 'High-Rise.'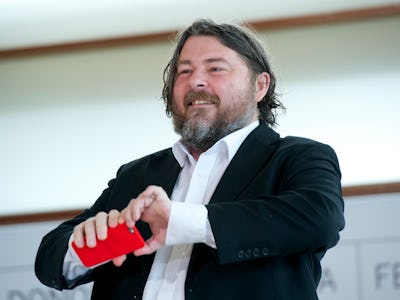 Juan Naharro Gimenez  / Getty
The best thing filmmaker Ben Wheatley ever did was help his friend get hit by a car ten years ago. It was just the violent stunt Wheatley needed to slowly begin his ascent to being the best contemporary auteur you've never heard of.
After helming four feature films, Wheatley's latest is an adaptation of British author J.G. Ballard's class warfare satire High-Rise, and it's his most high-profile effort yet. The film marks hid first projrect with big name stars like Tom Hiddleston, Jeremy Irons, and Sienna Miller. While the names on the marquee may be more recognizable than any in his previous films, it doesn't sacrifice the same kind of idiosyncratic humor and twisted violence that he's always used in his work. He came from humble, violent beginnings, and he's stayed that way to great indie success. So who is Ben Wheatley, anyway?
But first, about that car incident.
Wheatley's filmmaking career took off because of a nine-second clip. The young creator, took to perusing pre-YouTube animation and video sites like B3ta while also making his own GIFs and Photoshopped images. Eventually, he uploaded a short live action Flash video called "Cunning Stunt" that showed his friend allegedly jumping over a car, only to get side-swiped by another while he isn't looking. It racked up millions of views on Wheatley's personal website, and was perhaps the perfect early thesis of Wheatley's eventual style: a knack for visual flair mixed with macabre humor and technical know-how.
He was basically made because of the internet, with the ability to reach the widest possible audience with the least amount of effort causing him to get commercial gigs. He'd go on to create advertisements for tech-based companies like Atari, and others.
His commercial for Philips AMBX won a Lion award at the Cannes advertising awards in 2006.
He also created a viral video for Playstation's Ratchet: Deadlocked, which was released as Ratchet: Gladiator in the UK.
And he also made this commercial for UK-based telecomm company Phones 4U, among many others.
The ad clips were only the beginning; he was soon given the opportunity to do TV work.
Modern Toss and The Wrong Door
Wheatley's first foray into television was a series of four live-action sketches in 2008 for the UK's Channel 4 series Modern Toss, which was based on the British humor comic book series of the same name.
The same year, Wheatley jumped to the BBC to film clever special effects-ridden sketches for the series The Wrong Door a darkly comedic show that took place in a parallel universe. Some clips featured actors who he'd cast when he made the leap to feature films, like the first above starring actress MyAnna Buring who would appear in his second film, Kill List.
Down Terrace
In 2009 Wheatley then gathered a group of British TV actors to shoot Down Terrace, a crime drama set in the seaside town of Brighton, that took only two weeks to complete. The film chronicled the domestic lives of an endlessly arguing British mob family after the aging patriarch named Bill (Robert Hill) gets out of prison. By Wheatley's own admission, the film was a micro-budget indie affair. "We arrogantly went in and went, 'We're just gonna make this film, we'll do whatever we want, we're not gonna talk to anybody.'"
Ideal and Burge & Way
Following Down Terrace, Wheatley jumped back to British TV comedy work, directing 14 episodes of the fifth and sixth season of the BBC series Ideal, a black comedy about a Manchester drug dealer who has to also deal with the bizarre characters that he helps. He also re-teamed with Down Terrance actor Tony Way to direct the TV movie of Way's comedy duo Burge & Way.
Kill List
The TV work gave Wheatley the foundation, and the small-time debut feature got the first-time jitters out of the way, but it wasn't until 2011's Kill List that Wheatley came into his own. It typifies the rest of his work until the present in its most nascent form in that it doesn't adhere to any specific form or genre at all. At times it's a crime procedural, a family drama, a grisly slasher movie, and an apocalyptic ghost story all wrapped into one. Ostensibly about two hitmen that find themselves embroiled in a Wicker Man-esque cult, Kill List operates on its own unsettling level.
Sightseers
It's perhaps the most darkly comedic movie in British cinema history, almost like if the Coen Brothers packed up and moved across the Atlantic Ocean. Sightseers is what it's like if a serial killer went on vacation. Wheatley's 2012 film tracks Chris (Steve Oram) and Tina (Alice Lowe), two down-and-out rural Brits who go on a road trip and soon find themselves wanted for murder, but it doesn't bother them all that much. In a bit of British auteur goodwill, the movie was greenlit after Oram and Lowe sent their idea to filmmaker Edgar Wright, who ended up producing the final film.
A Field In England
When Martin Scorsese calls your movie "audacious and wildly brilliant," and "a stunning cinematic experience," you know you've done something right. Wheatley's next film was another micro-budget experiment, but he had way more experience. Shot in only 12 days with a skeleton crew in black and white, A Field in England takes place during the English Civil War and tells the story of a group of deserters that come across an alchemist that uses magic mushrooms to convince them there's a buried treasure in a nearby field. It's, in a word, weird. But it's wholly a Wheatley film that needs to be seen to be believed.
After A Field in England, he directed two Doctor Who episodes, "Deep Breath" and "Into The Dalek." And after High-Rise he doesn't plan on stopping there. He already has his next film, Free Fire, starring Academy Award winner Brie Larson, shot and completed. The movie, about a 1970s Boston drug deal gone wrong, is set for release sometime in late 2016, and a sci-fi series called Silk Road he will write, produce, and direct is still in development. If you don't know the name of the most singular filmmaker working today, you soon will.