Watch These 'Jason Bourne' Teaser Clips Before Tomorrow's Full Trailer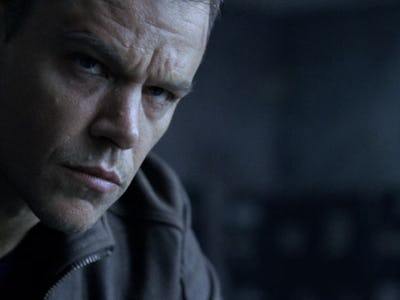 YouTube / Universal Pictures UK 
The first full trailer for Jason Bourne, the gritty edition to the movie franchise that defined the genre a decade ago, will hit the internet tomorrow. But in the meantime, Universal has dropped a handful of clips that show off snippets of the badass action scenes director Paul Greengrass has cooked up with Matt Damon.
Each clip is very brief, but all give you a sense of the film's brutality. Damon's last outing as Bourne was 2007's The Bourne Ultimatum, and when he dropped out of the franchise, a new sequel called The Bourne Legacy, starring Jeremy Renner without the title character, appeared and disappeared from theaters.
Damon's return has been a long time coming, and it's a move Damon himself said in 2007 wasn't likely to happen. At the time, he told Collider, "The story of this guy's search for his identity is over, because he's got all the answers, so there's no way we can trot out the same character."
But in a recent interview with Variety, Damon said he enjoyed incorporating the space between films into the new movie. "Technically when the Bourne character disappears, it's still 2004. So when this next one comes out in '16, it will have been 12 years — in movie years — that the character as been off the grid. So what's happened in those intervening years gives you a story." As it turns out, the studio can "trot out the same character" after all.
See if you can figure out the story from the teaser trailers below:
The trailer for Jason Bourne drops tomorrow, while the movie will be released in theaters on July 29, 2016.