Report: Apple Rarely Gives U.S. Government User Data, Unlike Google or Amazon
Apple only gave the government data in 27 percent of cases.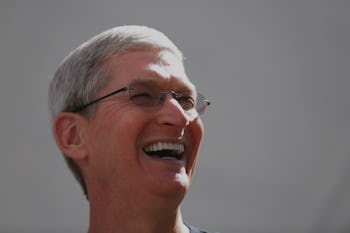 Getty Images
Apple has revealed that, most of the time, it does not hand over personal data to the authorities. Google and Amazon, on the other hand, usually give over information when asked.
According to Apple's latest transparency report, released this week, less than 0.00673 percent of its customers have been affected by a government information request. Of the information requests Apple receives, the company only handed over information in 27 percent of cases over the June 2014-June 2015 period.
Google's most recent transparency report, which covered the first half of 2015, showed a similarly low rate of users affected. The company received less than 35,500 user data requests. However, 63 percent of these resulted in some data being handed over, a much higher rate than Apple. While the number of data requests has gradually increased over the years, the percentage of requests where Google complied has been decreasing.
Amazon reported similarly high rates of compliance. Out of 813 subpoenas received between January and May 2015, Amazon fully complied with around 67 percent of requests. The report is Amazon's first and, so far, only transparency report, so it's hard to gauge if these figures are moving at all.
Apple's data handover rates are specifically measuring "account requests," normally when a government agency asks Apple to hand over information from iCloud. The other type of requests Apple receives from authorities are "device requests." These involve helping a phone owner track down their phone by using Apple's tools, at the law's request. Most requests, 96 percent to be exact, are device requests.
Apple states that it will not help law enforcement agencies extract data from iOS 8 or later devices, as these use a different encryption method from previous versions and Apple does not want to undermine customer security by breaking it. This became a point of contention when the FBI asked Apple to help it extract data from an iPhone 5C, but the FBI dropped this request when it found its own way to extract data.