Google's Project Wing Video Hypes Drone Delivery Without Iconic "Wing" Design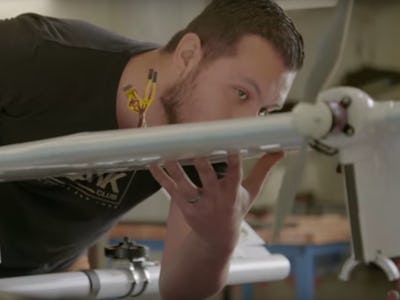 Project Wing
Google X has released an update on Project Wing, its drone delivery initiative that is sparse on details but whets our appetite for more. The teaser mirrors a previous Project Wing hype video, only without the shots of the fixed-wing aircraft that Google recently scrapped in favor of a more traditional (Amazon-like) quadcopter drone.
The project may "take another big chunk of the remaining friction out of moving things around," Astro Teller, the captain of X (formerly Google X), the secretive lab that's now a subsidiary of Alphabet, Inc. tasked with "Moonshot" projects, says in the video. Yet we don't actually see any clear images of the new drones, despite a recent promise from a Project Wing executive to begin commercial deliveries as early as 2017.
The original fixed-wing aircraft designed by Project Wing employed a small pouch that held deliveries for flights and winched the package to the ground once the plane reached its destination. Dropping deliveries out of the sky seemed to jeopardize the safety of users on the ground, forcing Project Wing to ditch the model and adopt the quadcopter design that easily lands and takes off to make deliveries.
The good news is that, at a test of the new prototype of Project Wing's planes, the company promised the aircraft was capable of traveling "5 miles in 5 minutes". So the major advantage of the fixed-wing aircraft — speed — may not be so crucial after all. It's unclear what, if any, advantages the fixed-wing design held for the engineers. The new teaser retains its focus on low-carbon deliveries, suggesting that fixed-wing planes do not dramatically outpace the quadcopter models on energy standards.
Project Wing may have been able to retain some of the underlying technology that guides planes to specific destinations, but the abandonment of the iconic Project Wing fixed-wing drone certainly seems like a major setback. It also converts the race between Google and Amazon to offering quick drone delivery into a simple corporate competition rather than any kind of technological head-to-head. But for pricing and accessibility purposes, it's good to see that Google is still in the game. The promise of drone delivery is very much alive — in fact, we're closing in on it.