What A 'Ratchet and Clank' Movie Will Do For 'Warcraft' and 'Assassin's Creed'
We're psyched to see video game franchises adapted into animated films. Here's hoping they're good.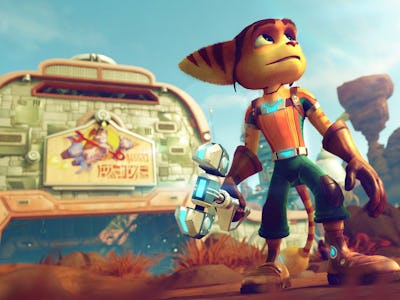 Just this year, we're going to get five different video game films, adapted from properties like Warcraft, Angry Birds and Assassin's Creed. This influx in substantial promotional materials and adaptations suggests a mini-renaissance in the medium, and we believe Ratchet and Clank may be at the forefront.
The Ratchet and Clank PS4 reboot game will arrive April 12th. The movie that the game comments on will be released April 29.
Quite a few of the many forthcoming video-game movies look pretty promising, but Ratchet and Clank occupies an important space. In the past, video games haven't had much luck when transitioning to the big screen. Most everyone's go-to example of laughable adaptations is our lovable red and green plumbers appearing in Super Mario Bros.
This movie was a total flop, and while its entertaining to watch because it is so bad, it probably wasn't hoping to be ironic.
It's hard for any video game film to flourish, considering the stigma now poisoning the audience's perception of each film franchise. The drudgery of lackluster video game movie adaptions like Resident Evil, Final Fantasy: The Spirits Within, and Prince of Persia: The Sand of Time damage the potential for optimism.
It's not all bad, though. There are adaptations that are working quite splendidly now, even better than their video game predecessors, as much as it disappoints fans. Sonic the Hedgehog is up to six TV series after its original SEGA release in 1991, the most recent being Sonic Boom, which completed its first season last year and is now in production for the second season.
Sonic Boom tried to do what Ratchet and Clank is doing now, by collaborating on both the show/movie and video game together. Insomniac Games, the developers of the lombax and robot, even sent characters models back and forth between their designers and the company working on the movie. Unfortunately for Sonic, though, the video game sucked and the two couldn't simultaneously rocket the speedy hedgehog out of the slump he's been in for quite a few years now.
In these instances, we're seeing more and more moves to branch out and create successful multi-medium franchises that aren't just trying to ride out the popularity of an original game. We've seen it with Final Fantasy: Advent Children and the various Persona anime series and movies for both the third and fourth games. And now with the upcoming Final Fantasy XV, we've got a six-episode anime series that's tiding us over until the release of the game later this year, and there will be a theatrical movie release at some point in the future.
There have even been more experimental meshing of mediums with the Blizzard online multiplayer game Overwatch, which has been releasing its storyline during the beta period through short films which delve into characters' backstories and the lore of the world, instead of putting these cut scenes into the actual game.
Ratchet and Clank will hopefully change perception of video game movie adaptions — even just slightly — so that all of the ones following will receive a somewhat better reception. The video game industry will gain popularity and influence as it continues to expand.