The CW Network's 'Containment' Will Adapt A Belgian Virus Drama Series
Did you really enjoy that 'Contagion' movie or the 'Under The Dome' TV series? Well, you're gonna love this.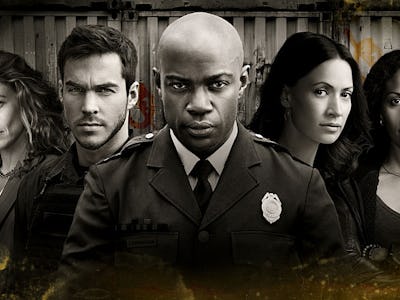 Jim Fiscus / The CW Network
Containment, The CWs new miniseries based on the Belgian drama Cordon, premieres tomorrow, April 19th. Here's what we know about Containment (without dipping into the arc of Cordon because, well, spoilers).
After Atlanta is hit by a seriously infectious and rapidly-spreading epidemic, a large quarantine is enforced to contain it, complete with tall fences, razor wire and controlled entrance and access points.
Containment follows an ensemble cast displaced by the containment, including police officer Lex Carnahan (David Gyasi), who is charged with enforcing the quarantine while his girlfriend Jana (Christina Marie Moses) and friend Jake (Chris Wood) are trapped inside. Also inside of the fence is Katie Frank (Kristen Gutoskie), a teacher with her son and class of elementary school children, 17 year-old and eight months pregnant Theresa (Hanna Mangan Lawrence), and CDC researcher/frantic cure-chaser Dr. Victor Cannerts (George Young).
While those inside of the containment zone struggle to stay alive and maintain some kind of order, Dr. Sabine Lommers tries to keep the virus from spreading as she grapples a suspicious and panicked general public and investigative journalist/tireless truther Leo Greene (Trevor St. John).
Containment's Belgian source material is set in Antwerp and finds its Patient Zero in an Afghan immigrant who visits the National Institute of Infectious Diseases (NIIDA) for inoculation. When the man's illness is discovered, the portion of Antwerp in which the NIIDA sits is quickly quarantined, and a similar cast of characters find themselves contending with fear, the threat of the illness, and the pains of being separated from loved ones.
Cordon's NIIDA is fictional, but we know that Containment's Center for Disease Control (CDC) is very real. The CDC and its Atlanta headquarters have been the subject of fiction for a long time, appearing in films like Contagion and shows like The Walking Dead. The CDC is a natural fit for outbreak-related disaster fiction, as it's home to the world's most deadly germs.
Much like Cordon, we'll see Containment explore the tensions that arise from fear, mistrust, and being trapped with a deadly and highly infectious disease. As such, the sink-or-swim element of the show will be its characters. While the premise is plenty exciting and intriguing, a show that throws characters together in a battle against a dangerous and impossible situation must use its principles to push the plot forward, rather than relying upon a well thought-out but lifeless framework of unfortunate events.
You can find out how the characters fare when Containment premieres tomorrow, April 19th, on The CW.