Why Beyoncé's "Lemonade" Won't Be the Best Song Called "Lemonade" Ever
In preparation for Beyonce's upcoming HBO event, a definitive ranking of double-entendre-ridden songs devoted to the definitive summer drink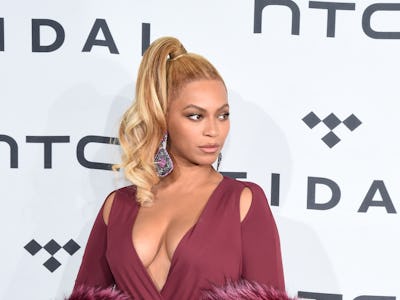 YouTube/Winston Cook-Wilson
This weekend, two teasers for a new HBO visual event of an unknown variety starring Beyoncé, appeared online. The teasers — which feature brief clips of elaborate dance numbers, and shots of Bey in several outlandish costumes — indicate a possible Michael Jackson-esque extended music video event, but it could be something more. The title begs the question: Is there a single Beyoncé song called "Lemonade"?
If Beyonce's project is indeed what it seems most likely to be, she will be entering into a rich and formidable tradition of songs by that name. I am full of the optimism of the #BeyHive as much as the next living and breathing human , but it's hard to imagine another song involving the word that could be as excellently rendered and comprehensive as Gucci Mane's "Lemonade." Hopefully, Bey can rank at least in the top five "Lemonade" numbers; look out, Alex Boye'!
Here are the top 8 extant songs by the name of "Lemonade." Judge for yourself whether Beyonce will be able to beat them at their own game.
1. Gucci Mane- "Lemonade"
There's basically no question about the best song called "Lemonade." It is not only Gucci Mane's most famous solo single in the international sphere — many have hit hard in the South — and with good reason. From the unlikely, restless beat to the "golden age" Gucci similes, it's an excellent illustration of the Atlanta rapper's immutable artistry. LaFlare plays on the connotations of Lemonade in most bars of this song: It's the hue of his jewels, a codeine mixer, the type of wings he likes ("yellow pepper"), and his kush variety of choice. No song works through the possibilities of the word more comprehensively and creatively than Gucci's.
2. Danity Kane- "Lemonade"
Danity Kane's music is under-appreciated in the modern girl group canon. Only marred by a lukewarm Tyga appearance, the now-defunct, former Making the Band act's 2014 single is an appealing piece of laid-back, mid-tempo West Coast R&B. In this case, "Lemonade" refers to the nectar of life, at least one that is based around perpetually turning up.
3. Blind Melon - "Lemonade"
The dearth of rock'n'roll songs named "Lemonade" was broken in 1995, by L.A. grunge favorite, Blind Melon. It's a little hard to figure out what the late great Shannon Hoon is singing about, but the song sounds like some sort of nihilistic paean to the joys of Southern living. The sloppy, psychedelic rave-up culminates in the most dramatic use of the title word you'll find on this list: "I'll bloody bleed on everything I'm seeing/ But I keep screaming for that glass of lemonade." The final prog-rock exorcism repeats "too much, too much, too much lemonade."
4. CocoRosie — "Lemonade"
Listening to the restless, fractured, and sometimes aggressively cloying indie-pop of CocoRosie is nothing like drinking a (well-made) glass of lemonade. But it is the name of one of their most popular and accessible tunes, illustrating all of the band's oddball modes of musical address across its five minutes. "Lemonade" functions as part of a distant memory: "Lazy days when I said let's go for a ride/ We'll sail on Spirit Lake/ Me, my pappy, and his lemonade."
5. Alex Boye' - "Lemonade"
This pop-folk-tronica jam is recommended for proponents of Travie McCoy and Bruno Mars' "Billionaire" and Shaggy's "Angel." The moral: don't worry, be happy, essentially. When life gives you lemons… you know the rest. Assemble a parade of kids with acoustic guitars and invade your local suburb, to the annoyance of all. Stick around for the spluttering, jarring explosion of a bridge at 2:45.
6. Alexandra Stan — "Lemonade"
EDM, reggae, sunny pop, a nonsensical harmonica — Romanian singer and "Mr. Saxobeat" legend Alexandra Stan's 2011 come-on anthem "Lemonade has it all in one strange, monotone package. After a few spins, its appeal starts to set in, and it's sitting pretty with over 73 millions views 4 years since its release. For Stan, lemonade is just something to sip on a hot day — also, a way to cool down when thinking about a loved one. Steamy, confusing stuff. Are you the next Stan stan? Sample her "Lemonade" to find out.
7. SOPHIE- "LEMONADE"
Avant-electro producer SOPHIE, an affiliate of the polarizing pixie-stick-mainlining PC Music enclave, has a tinny, acerbic pop jam called "Lemonade," punctuated by gross, metallic water sounds. It's not for the faint of heart, but it's the perfect music for a song which repeats the words "candy boys" over and over, and perhaps, for engaging in foreplay with a robot.
8. Jeremy Passion — "Lemonade"
Jack Johnson'n'B goes to another extreme with (every bio of his uses the word) viral crooner and strummer Jeremy Passion's signature "Lemonade" from 2014. In the song, "lemonade" is just another comparison point for how "soothing" Passion's significant other is. Short-sightedly, the singer didn't even deign to wear a bright yellow fedora in this video. At least because of the final point, this is definitely the worst notable "Lemonade" track.