Lyft and Uber Workers Must Pay San Francisco $91 to Keep Driving
The city is playing hardball with the companies for contract worker status.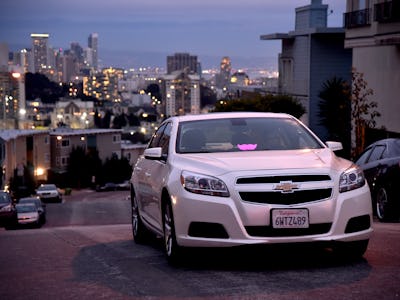 Mike Coppola/Getty Images 
San Francisco city Treasurer Jose Cisneros on Friday declared for the first time that if Uber and Lyft drivers are going to be treated as independent contractors, then they'll have to obtain an annual $91 business license just like other contractors in the city.
Both ride sharing companies have been vigorous in their assessment that drivers should be classified as contract workers, which denies them benefits such as gas reimbursement and healthcare they would receive if made full employees. Earlier this month Lyft attempted to settle a lawsuit brought against the company for this very reason for the sum of $12.25 million, but a judge rejected the settlement. Uber is set to start a trial in June that will also examine this issue.
In the meantime though, it seems San Francisco is playing hardball with the companies by calling on some old-fashioned bureaucracy.
"We have a very broad and comprehensive business registration requirement," Cisneros said. "This has been a law that has been around for many years. It's very clearly spelled out on our website — the law here in San Francisco requires you to register your business with the city. If they missed that requirement, they are still obligated to do that."
Some 37,000 drivers operating in the city will have to pay $91 if they make under $100,000 annually, and Cisneros started sending out notice letters this week informing drivers they will have to comply within 30 days or face penalties.
Uber and Lyft have long been operating in the city and this law isn't new, but only recently has the city obtained a list of names and contact information for drivers, which the two companies have refused to hand over in the past. Cisneros didn't reveal how he obtained them.
According to statements made to SF Gate, Uber is encouraging drivers to comply with the law while Lyft is opposing the measure.
"We have serious concerns with the city's plan to collect and display Lyft drivers' personal information in a publicly available database, Lyft spokeswoman Chelsea Wilson told SF Gate. "People in San Francisco, who are choosing to drive with Lyft to help make ends meet, shouldn't have to compromise their privacy in order to share a ride."