It's Bucky-Bustin' Time In 'Captain America: Civil War'
New clip shows everyone taking a shot at The Winter Soldier.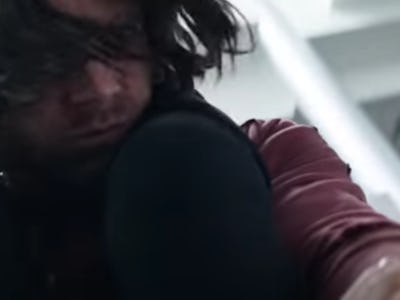 A short clip from Captain America: Civil War just dropped, and it's a weird, but straightforward moment from the big brawl that has critics buzzing. The clip shows our friend, the Winter Solider, Bucky — and apparently he doesn't like what's being served at the cafeteria at Avengers HQ.
Bucky, who is being pursued for his brain-washed actions in Captain America: Winter Soldier, takes on a number of Avengers, including Iron Man and Black Widow (dude is still real powerful). This is a turning-point scene, as Bucky tries to fire a point-blank shot at Tony, proving that he's really out for blood — and there's no coming home.
This is just a gorgeous scene and if the whole film is on this level, I'm about to have seven different kinds of nerd boners. Seriously, this is such an achievement. I cannot wait to see what this sequence throws into motion.
The clip is below, and the film opens nationwide on May 6th.