AMC Backs Off Its Idea of Text-Friendly Theaters After Intense Backlash
CEO Adam Aron says "NO TEXTING ALLOWED" in AMC theaters.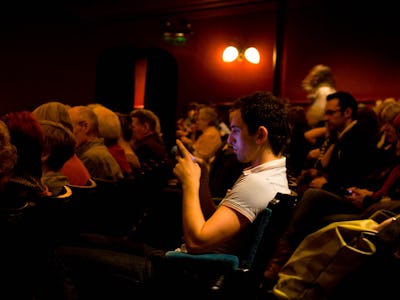 Mark McQuade/Flickr
Passionate moviegoers got their wish: AMC Theaters will not create "texting friendly" auditoriums. Today, on the company's Twitter account it posted a letter written by CEO Adam Aron that makes it clear: "With your advice in hand, there will be NO TEXTING ALLOWED in any of the auditoriums at AMC Theaters."
Aron is eating his words from an interview with Variety on Wednesday. The statement is a response from the overwhelming backlash from AMC guests after he told reporter Brent Lang in a Q&A that creating sections for texting was one possibility and that it was likely that the company "take specific auditoriums and make them more texting friendly."
His reasoning was to serve and appease younger audience members:
"When you tell a 22-year-old to turn off the phone, don't ruin the movie, they hear please cut off your left arm above the elbow. You can't tell a 22-year-old to turn off their cell phone. That's not how they live their life.
But now, with what seems like absolute finality, Aron writes that this will never happen, "Not today, not tomorrow and not in the foreseeable future." He says that the company wants to devote $1 billion to revamping current theaters with better sound and visual systems, larger screens, and higher-quality food options.
Is AMC being too hasty by throwing this idea away completely? Perhaps if Aron had phrased the texting option in a more enticing way it would have been received better. It's true that going to the movies today can be a bit of an isolating experience — you're sitting in a large dark room with a bunch of strangers. Texting zones and auditoriums are obviously not the answer, but maybe Aron is on the right track.
By bringing in smartphones and technology in a meaningful interactive way, maybe watching a film can become a unique moviegoing experience where audience members can connect with each other.