Apple and the FBI's Encryption Battle Will Go Back to Congress Again Next Week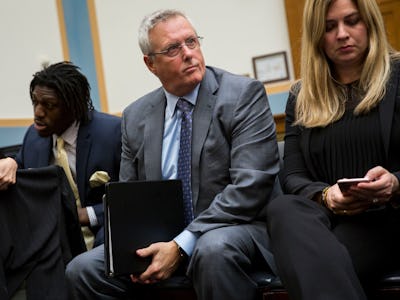 Getty Images/ Drew Angerer
Apple's battle with the FBI over the future of encryption was all over two weeks ago, but there were a lot of loose ends — and now it looks like Congress wants to hear more. Today, a congressional committee announced that Apple and the FBI will go another round, testifying before Congress on encryption on Tuesday.
Bruce Sewell, Apple's general counsel, and Amy Hess, executive assistant director for science and technology at the FBI will testify before separate panels of the House Energy and Commerce subcommittee, several sources told Reuters.
When the FBI abruptly dropped all charges against Apple, it left most of the press and public wondering what would come next. The most pressing unresolved question is how the FBI unlocked the San Bernardino phone, and who was responsible.
It turns out, the FBI doesn't even know how it got into the phone — that information belongs only to the third-party source, a foreign company that includes at least one grey-hat hacker, that performed the unlock. The FBI paid the company a one-time fee for its services.
Apple and the FBI have already been before Congress once. Though the FBI appears to have abandoned the San Bernardino case, sources told Reuters that the government agency is now focusing its attention on an unrelated drug case in New York, which also involves a locked iPhone.
The Congressional committee said New York Police Department intelligence bureau chief Thomas Galati will also testify on Tuesday, alongside Charles Cohen, commander of the Indiana Internet Crimes Against Children Task Force; and Matthew Blaze, a computer security expert at the University of Pennsylvania.