Star Wars Disneyland Park, A New 360-Degree Preview
Disney has started breaking ground for the new park expansions and a new 360-degree photo gives us a look.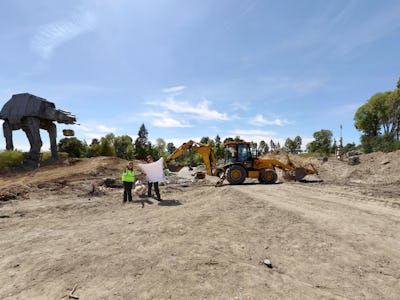 Disney / Littlstar
The teams behind the Star Wars-themed lands at Disneyland and Walt Disney World are breaking ground today. A 360-degree photo from Disney gives us a (very) early look with special appearances by some familiar characters.
Disney, notoriously tight-lipped about developments in all aspects of its business, hasn't released many details about attractions, but revealedd in a blog post that the construction site at Disneyland is 14-acres, and that the 360-degree photo features a look at the "unique resources that are being brought to the project."
As Disney expands its Star Wars attractions beyond Star Tours, we're definitely going to see some old faves returning (AT-ATs, for example) along with some newer additions to the Star Wars-verse (hi, BB-8!).
Though this first look is at the expansion of Disneyland Park, Walt Disney World is undergoing a similar expansion, adding an all-new Star Wars-themed land to the Orlando park at Disney's Hollywood Studios.
Right now, Star Tours is the major Star Wars-themed attraction for both parks, which have added new character-meet opportunities in response to growing and renewed interest in the franchise thanks to the overwhelming success of The Force Awakens.
There's still no word on an opening date for the new lands, but as construction begins, things are on the move.