Disneyland's Star Wars and Marvel Expansions Will Be Nerd Heaven
A family vacation you will want to go on.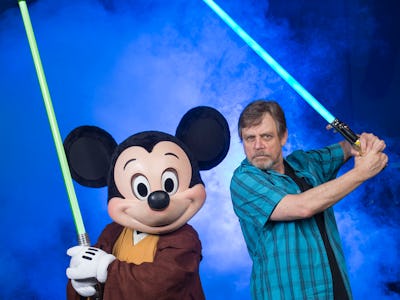 Getty Images
In a few years, Disneyland could become every nerd's dream vacation spot. Not Disney World. Land. The California one.
MiceChat, a portal for Disney parks enthusiasts, have what they purport to be the latest plans for Disneyland's Star Wars and Marvel expansions ahead of Disney's D23 expo later this week. In addition to integrating Mickey Mouse's new action-oriented friends into his playground, they also add some much needed parking to the claustrophobic 8,000 spaces the park currently offers.
The plan for Star Wars Land has grown immensely in scale, and it's now aimed squarely at the land north of Disneyland itself. Taking over the Festival Arena, the Circle D Ranch, Mickey's Toontown and several rehearsal halls and office buildings just north of Toontown. The Circle D property, where all of the park's horses, goats and other animals are kept will be moving off property to a new facility nearby, and the horses will then be trailered in for their 4 hour shifts pulling the Horse Drawn Streetcars on Main Street.
The rehearsal halls and offices north of Toontown would be moved over to the larger 160,000 square foot office building Disney bought last year at 1515 S. Manchester Avenue, which now houses a dental supply company. That building on Manchester is slated to be phase two of the Pumbaa parking structure, expanding its capacity beyond 8,000+ spaces after the first phase of 5,000 spaces opens in 2018, but in the short term it will become the temporary home of Disneyland's displaced backstage buildings. The smaller building at 1585 S. Manchester will be demolished for the parking structure construction.
Here is the proposed space Disney intends to devote to Star Wars.
MiceChat continues to explain that D23 could be where Disney announces that its Tomorrowland attraction will have more Star Wars as soon as this November to hype The Force Awakens in theaters Dec. 18th (126 days away!). This includes bringing the Star Wars Launch Bay, an interactive attraction in construction in Disneyland Shanghai, to California.
Marvel is also making its way into Disney parks alongside its adopted sci-fi relatives.
The plans to expand DCA again with a Marvel Land behind Tower of Terror continue to move ahead, and the E Ticket thrill ride that is planned to anchor that expansion is going to be very unique. The ride will feature a newly Imagineered hybrid ride system that might be best described as a combination of Rock N' Roller Coaster and Universal's Transformers ride using every trick and gimmick WDI can throw at it, including on-board audio and effects and elaborate sets and animatronics. With the Pumbaa parking structure moving quickly, the old toll plaza entry lanes south of DCA that are used to redirect cars from Mickey & Friends can also be utilized, creating a surprisingly large chunk of property slated for DCA's future expansion.
I visited Disneyland just last year, and they haven't wasted time bringing Star Wars and Marvel to the parks. But their presence is secondary to Mickey Mouse and his usual suspects. If you want to meet Captain America, you have to find your way to Innoventions, which I remember being a hike just to hang out with a guy who was frozen for six decades. The biggest presence of Star Wars was the 3D ride "Star Tours," which I made the mistake of riding hungover, and the Jedi Academy, which I made the mistake of not being 7-years-old.
The real kicker behind these expansions is that they have to keep up with the movies. Because Disney intends to release a Star Wars movie every year until the sun burns out, the designers of these parks have signed extra thick non-disclosure agreements because they'll be integrating characters and stories for movies we don't even know the title to.
The rides and shows in the land itself are being developed in a top secret Imagineering lab in Glendale with Imagineers signing extra confidentiality agreements because the plotlines and characters are pulled from the next three episodes in the Star Wars saga and the Lucasfilm folks understandably guard that information with their lives.
Excuse me. I have blueprints to secure.