'Ghost in the Shell' Stars Scarlett Johansson, Changes 'Motoko' to 'Major'
Get a peek at Motoko Kusanagi, or Major in the upcoming 2017 adaptation.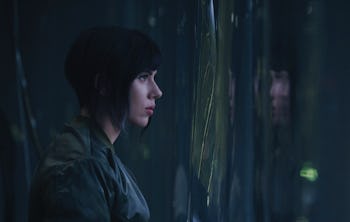 Paramount Pictures
The Hollywood adaptation of Ghost in the Shell, Mamoru Oshii's influential 1995 anime film and the Masamune Shirow's sci-fi manga upon which it's based, has begun production in New Zealand. And with that announcement, the first official image has been released, featuring its star Scarlett Johansson (Captain America: Civil War) as Major, a human-cyborg hybrid who leads the elite special ops Section 9 devoted to stopping the worst criminals and extremists.
So, "Major." That's a simplified change from the character's original name, Motoko Kusanagi, which was possibly done to address accusations against the film for whitewashing its main character.
Regardless, Ghost in the Shell is getting made. Snow White and the Huntsman director Rupert Sanders is attached to producers Avi Arad (Spider-Man), brother Ari Arad (Ghost Rider: Spirit of Vengeance), Michael Costigan (Prometheus), Jeffrey Silver (Edge of Tomorrow) and Mitsuhisa Ishikawa, from animation studio Production I.G. who produced the original Ghost in the Shell film and the television series Ghost in the Shell: Stand Alone Complex.
Ghost in the Shell will be released next year, on March 31, 2017.