Will Cheap Broadband Actually Make It to Rural America? Here's How It Might Happen
The FCC has some plans in motion.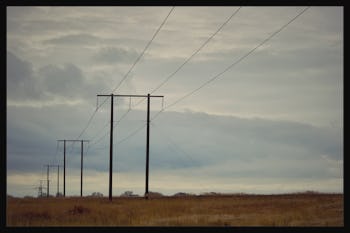 Neil Tackaberry / Flickr
In Marty Newell's part of eastern Kentucky, the only internet connection available is sluggish: a 12-megabytes-per-second download and a laughable 1 mbps-upload rate.
Newell, coordinator of the Rural Broadband Policy Group, an internet access advocacy organization, says he's hopeful about the future after the Federal Communications Commission's expansion of its Lifeline program to require affordable access to the internet through phones and portable wifi hotspot devices.
"If kids can go home and use a tethered mobile device to connect tablets to school, they are miles ahead," Newell tells Inverse. "I think that's one of the most promising features of this expansion."
The problem is far more pervasive among rural communities, where 53 percent of residents living in these areas lack basic broadband speeds. It's not necessarily the case that those 22 million people can't afford broadband — although that is certainly part of the issue — but it's more so that internet providers don't consider the cost of servicing these areas economically profitable.
This map from the report illustrates the areas most in need of access, but there's been little mobilization to fix the problem, as 20 percent of residents in rural areas lack access even to slower service speeds of 4 Mbps/1 Mbps, which is a percentage that's gone down only 1 percent since 2011.
It's a problem that the FCC knows well: It's devoted a two-part program called the Connect America Fund and the High Cost program, each of which provide different subsidies to internet service providers, depending on the carrier. However, Mark Wigfield, deputy director of the FCC's Office of Media Relations, tells Inverse that, since its adoption in 2011, the Connect America Fund is just now starting to pick up steam.
But while these two programs address internet service providers directly, the Lifeline program could have a greater indirect effect.
"Lifeline is not a deployment program, but an adoption program. In other words, it will help consumers who can't afford broadband with a subsidy that discounts the price of their subscription," Wigfield says. "That said, bringing more broadband providers and consumers into the program could incentivize deployment in some areas."
This is a theory floated by other organizations that claim a program such as Lifeline would better incentivize internet service providers to invest in rural communities because the government subsidies would all but guarantee a strong adoption rate in rural communities.
While there's no guarantee internet service providers will see it this way, several of them did sign an open letter encouraging the FCC to expand Lifeline. It would seem a win-win for these companies that could extend services to new communities and gain new customers who may be willing to spend more money on extra amenities.
However, Newell is doubtful of that scenario:
"It would surprise me if that was a major driver for carriers to roll out in rural places," Newell says. "Carriers are already disincentivized because they just can't make as much money if there aren't as many subscribers per mile of wired lines. The Lifeline expansion is not going to add any big-ticket subscribers that are buying the triple play and bells and whistles."
So while Newell says AT&T might not see the value, he is more optimistic in the potential of a smaller ISP recognizing the opportunity to help — and make money off of an underserved community through the Lifeline program.
Democratic FCC Commissioner Jessica Rosenworcel in her statement for the March meeting said she sees greater short-term potential in wifi hotspots.
Our decision also modernizes Lifeline by making sure that the devices used for Lifeline broadband services are able to access wifi signals and that these devices can be turned into wifi hotspots," Rosenworcel said. "For a student with a computer but no way to connect at home, a hotspot can be the difference between keeping up in class and falling behind. It can be the difference between being a digital consumer and becoming a digital creator. It can help put more students on the pathway to science, technology, engineering, and math — a road that suffers today from an unacceptable lack of diversity. So it may seem small — but giving more students the tools to do digital age homework can yield big results.
Mobile adoption rates in rural areas are far higher than broadband, considering that 64 percent of all U.S. adults own a smartphone, according to a Pew Research survey, which also found that 10 percent of those cell phone owners have no other way to access the internet from home.
Pew calls them the "smartphone-dependent" population:
The commission is hoping wifi hotspots will be an easy way to extend internet access from those phones to a home device and continue to close the homework gap.
The FCC is investing $4 billion in subsidies to internet service providers to expand their services, and the newly approved Lifeline expansion will budget $2.25 billion for subsidies to low-income Americans seeking broadband access. With any luck, these two investments will close the internet access gap between rural and urban centers.