First 'Doctor Strange' Trailer for Marvel Film Starring Benedict Cumberbatch
Here's the first look at Cumberbatch as Marvel's Sorcerer Supreme.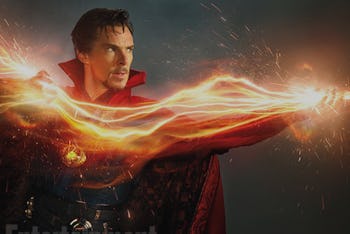 Marvel Studios
The trailer for Marvel's Doctor Strange premiered tonight on Jimmy Kimmel Live, giving us the first real look at the upcoming superhero flick film. Benedict Cumberbatch joined Kimmel to present the world premiere of the trailer.
Doctor Strange will star Cumberbatch as the eponymous surgeon turned mystic superhero. Chiwetel Ejiofor will play fellow magician Karl Mordo, and Tilda Swinton will play the Ancient One, Strange's teacher in magic. Rachel McAdams, Mads Mikkelsen, and Benedict Wong round out the cast, with Mikkelsen as the film's main villain and McAdams as a fellow surgeon.
Speaking to Entertainment Weekly, Cumberbatch describes the film's process as "all sorts of craziness," with "falling, flying, jumping, fighting, punching, getting punched". Director Scott Derrickson (Sinister) also went on record to say how "interested in the extreme mind-bending visuals of the comics" he is and how he hopes to capture that on film. If the trailer is anything to go by, the two have worked very hard at trying to bring the hero properly to the big screen. We see Cumberbatch as an expert surgeon who suffers some kind of injury to his hands, before embarking on a wild journey involving mirror images of himself, Matrix-esque kung-fu, and some Inception-worthy Earth-bending, building-warping shots. This could be the Marvel Cinematic Universe's trippiest movie yet, as Strange's magic doesn't look like any of the supernatural powers or abilities we've seen in the MCU before.
Cumberbatch released the first trailer during an appearance on Jimmy Kimmel Tuesday night — the film is set to release November 4, 2016. Check out the full trailer below: