Ezekiel Will Be in 'The Walking Dead' Season 7, Leak Suggests
A kingdom is nothing without its leader.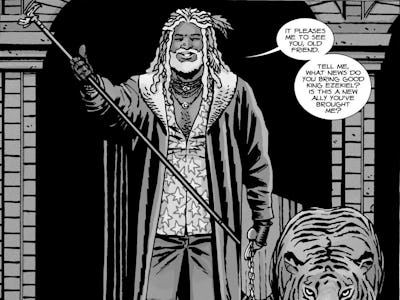 Skybound, Image Comics
Television producers, writers, and talent do their hardest to keep spoilers under wraps, but sometimes things just get out there. Like today, when the official Instagram account for (the comic book) The Walking Dead may have accidentally revealed a character from the comic books, Ezekiel, will make his debut in Season 7 of AMC's primetime zombie drama.
At the end of Season 6, Morgan (Lennie James) and Carol (Melissa McBride) were saved by two dudes sporting (kind of hilarious) paintball and football body armor while riding on horseback. Speculation for fall's Season 7 includes The Walking Dead TV series including the Kingdom, a protected enclave housed in a Washington D.C. high school. Producer Scott Gimple said we "may or may not" see Ezekiel, a former zookeeper who became leader of the Kingdom after the apocalypse. He also has a pet tiger named Shiva.
Ezekiel makes his appearance in issue #108, several issues after Negan beat a certain someone to death.
While a post from the Instagram account for The Walking Dead books from Image doesn't mean much for the franchise's cable TV adaptation, it did sport a suspicious caption before it was taken down. Here it is, archived by ComicsAlliance:
The caption reads: "Happy #nationalpetday! Don't worry, #WalkingDead show fans. You'll get to meet Ezekiel and Shiva next season" Not ambiguous at all, is it?
Eventually the post was taken down, only to surface again with a new, less conspicuous caption.
Honestly, who cares about Ezekiel. Let's see a tiger run amok in the apocalypse.
The Waking Dead returns for its seventh season in the fall.