What to Expect From 'The Walking Dead' Season 7
Now that Negan is in town, here's what could happen next fall in AMC's hit zombie series.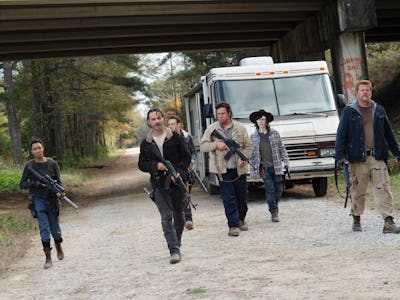 AMC
The dust has settled on Season 6 of The Walking Dead, and while its ambiguous ending left viewers super annoyed, nobody can deny it: the villainous Negan is one hell of a game changer. Played to perfection by Jeffrey Dean Morgan, the batshit warlord of post-apocalypse Georgia ended the season killing one of Alexandria's finest.
But who was his victim? Even the cast admits, collectively, they have no clue. (We have some idea), but everyone will know eventually, when the show returns this fall for its seventh season, six months from now. (groan)
Production hasn't even begun, but the introduction of Negan brings a lot of potential storylines from Robert Kirkman's acclaimed comic series that we may see played out in AMC's primetime zombie drama. So what can we expect when The Walking Dead returns?
A "mentorship" of Carl
In The Walking Dead comics, Negan brutally beat Glenn to death in front of Maggie and the rest of Alexandria upon his arrival. The show may or may not kill Glenn, but following the heartbreaking moment Negan forces the Alexandria-Safe Zone into a deal similar to the Hilltop colony: give up half their shit, or die.
Carl, ever young and reckless , sneaks onto a truck to kill Negan himself. But Negan finds him, and even admits to admiring the kid's bravery. Negan takes Carl under his wing in the most bizarre mentor-student relationship you could imagine. This was alluded to in the Season 6 finale when Negan calls Carl a "future serial killer", which he also says in the comics.
In an interview with ComicBook following the finale, series showrunner Scott Gimple said "Yes. A thousand times, yes," when asked if the show will bring Negan and Carl's relationship to television. He also says another character will be involved.
"[I]t may be very, very, very brief but we will absolutely see them have a pretty intense moment. There's gonna be a bit of remixing. There might be another character involved that takes some of it. I'm kind of tripping on some aspects of it that I don't want to reveal but that relationship will be absolutely shown."
In a separate interview with Variety, Jeffrey Dean Morgan said the show will stay close to the source material. "From what I understand talking to Scott Gimple and Robert Kirkman, we're gonna try and keep it pretty close," he said. "I think that's something to be able to look forward to because it's a great storyline."
After Negan "mentors" Carol, Negan returns him to Alexandria in an act of good faith, but not before Rick goes berserk and lands a few good swings at him.
A really deep dive into Negan's backstory
Though I personally think it's unnecessary, an interview between IGN, Jeffrey Dean Morgan and Scott Gimple reveals the next season of The Walking Dead may explore Negan's backstory and what turned him into the monster he is.
"We will see stories from his perspective, but I do think that the guy you see is the guy he is," Gimple told IGN. "There won't be this sort of reveal behind the mask, which I think is actually super challenging from a writing perspective for this kind of villain."
"I talked to Robert Kirkman last night … and he is kind of doing the backstory of Negan now," said Morgan. "Whether or not or when we see that — and I hope we do — I don't know."
The world will get bigger
When Jesus was interrogated halfway through the sixth season, he casually smirked to the group: "Your world's about to get a whole lot bigger."
He's not wrong. Hilltop one of few surviving colonies, but Alexandria hasn't had time to acquaint with the other strongholds, because of all this messy Negan business. But in the same interview with IGN, Gimple says Season 7 will allow the world of The Walking Dead to properly expand:
"We are going to have a wide variety of locales and a wide variety of tone, of character. I'm very excited for all the different stories that are going to be told, and there will be a lot of different stories told. There's going to be probably the biggest variety in stories we've done yet. I can say without spoiling anything that things are going to start off very, very, very dark, because everybody knows where we're starting, but that won't be the whole season. It's not going to be darkness upon darkness upon darkness. I'm very excited for all the individual characters' journeys — except for the way we start, which will be awful."
In fact, The Walking Dead already gave viewers a glimpse of this bigger world, through the mysterious "soldiers" who arrived on horseback to Morgan and Carol's aid. But Gimple teased they may not be part of "the Kingdom," a community of survivors housed at a high school in Washington D.C., which characters in the show have referenced on multiple occasions.
"Those guys may or may not have been from the Kingdom, and we may or may not see Ezekiel, but if we do see the Kingdom, it will be a big reveal and it will be another new world to inhabit and explore," Gimple said.