The 'Roots' Remake Will Be a National TV Event
'Roots' timely remake reminds us of the flip side of the Founders' democracy, as the consequences of slavery continue to resonate today.
by Christine Jun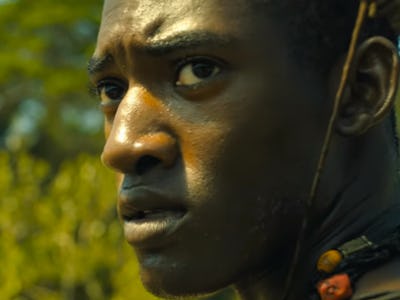 Based on Alex Haley's novel, Roots: The Saga of an American Family, the original Roots series ran in 1977 on ABC, chronicles the life of Kunta Kinte (LeVar Burton), an 18th century African who is captured and sold into slavery in the U.S., as well as his descendents' subsequent liberation. Not only did Roots go on to win nine Emmys after receiving 31 nominations, but it's finale was the third highest rated episode of all TV series, as well as the second most-watched series finale in U.S. TV history. Now, four decades later, A&E Networks will premier a Roots remake on Memorial Day 2016 that will air over four consecutive nights, featuring a star-studded cast that includes Anna Paquin, Forest Whitaker, Laurence Fishburne, and Jonathan Rhys Meyers. In addition, executive music producer Questlove is also responsible for the main theme song and score.
But if the original Roots performed so well, why bother making, much less watching, a remake now?
Oddly enough, even actor LeVar Burton, who played the original Kunta Kinte, was initially skeptical of a Roots reboot. But then he changed his mind over the idea of a whole new African-American generation re-introduced to their "roots," including his own daughter: "It's a really interesting time in history because my 18-year-old hasn't seen it, doesn't want to see it. For her, Roots, slavery, and for her generation, what my parents generation and my generation, what we have sacrificed is for them to feel uncomfortable to discuss these issues because they don't matter to this generation anymore. This is the first generation where race really isn't a freaking issue — a good deal of them really feel that way."
This Roots remake also provides an alternative historical narrative of the founding of America, which was hypocritically predicated on slavery despite it's high premium of democracy. With entertainment like Hamilton and Django Unchained, it's often dangerously easy to gloss over the institutionalized injustice of slaves being beaten to death, children sold away from their families, and female slaves being raped.
To this day, we continue to revere the Founders of the country - all of whom owned slaves. (Although Alexander Hamilton was, in theory, an abolitionist, he still owned slaves to please his wife and to show off his wealthy status.) The timing of Roots's new release asks the question: how do we address our nation's slave legacy today?
Hopefully, besides educating Americans, this new remake will especially help younger generations to feel more connected to American history. On the subject of black teenagers watching the Roots remake, Burton also added: "We need to reach them with the message that you can do anything you want in your life. It's up to you."
The delivery of such a message seems perfectly timed when race relations tensions in the U.S. are again at an all-time high, concerning life-prison policy and especially police brutality against black youths. The fact that, more recently, peaceful Black Lives Matter protesters were violently ejected by white supremacists at Donald Trump rallies only seems to further emphasize the necessity of a national healing process. Roots may be one project useful to that cultural growth.
Burton also aptly commented: "It was time — almost 40 years had passed…The current political climate in the U.S. has triggered a fear, an underlying sense of disquiet that was there all along."
In addition to keeping slavery awareness alive in the cultural consciousness, the History Channel's Roots remake also redresses the lack of diversity that plagues Hollywood and TV-land. In a behind-the-scenes special episode of Roots as part of PBS's Pioneers of Television — which aired in February this year — many of the original Roots cast members expressed their surprise at the lack of job opportunities they faced after being a part of such a high-impact phenomenon.
Roots will premiere on HISTORY on May 30, Memorial Day, at 9pm. It will be simulcast on A&E and Lifetime.