Bioweapons Defense or Nah? Tesla Design Studio Lets You Customize a Model X
It's perfect for the prospective buyer or the mildly curious.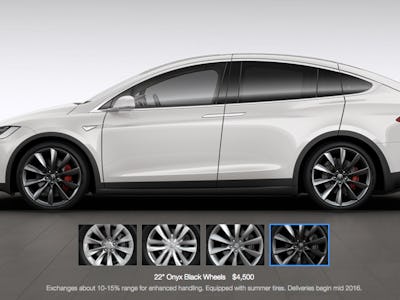 Tesla
Elon Musk and Tesla really know how to keep the hype from dying. Today, Tesla released its "Design Studio," where prospective buyers can design their own Model X, for the United States market.
The Design Studio currently only works for the Model X 75D, 90D, and P90D. Despite not including the much anticipated Model 3 or the stylish Model S, the Design Studio is like a nostalgic trip to early internet days of designing your own sneakers — only much, much more expensive.
The studio website comes at a convenient time for Tesla. Yesterday, Tesla informed 2,700 early Model X buyers about a factory recall on the third row of seats. But you know what they say, if you don't like what people are talking about, change the conversation. What better way to change the conversation to capitalize on the Tesla-buying frenzy of the past couple weeks than with a personalized online buying experience?
It's hard not to check all the boxes when the upgrades and options are laid out for your hypothetical choosing. The best (most expensive) Model X you can custom design can easily jump into the triple digits.
You want four 22-inch Onyx-black wheels on your P90D? Sure thing, that'll be $4,500 extra. Pearl-white paint job? $1,500, and an additional $2,600 for the matching white leather seats. Of course, the exterior is only the beginning. After upgrading for Ludicrous Speed ($10,000), Autopilot ($2,500), the premium Bioweapons Defense mode ($4,500), high fidelity sound ($2,500), the High Amperage Charger ($1,500), and every other available upgrade, it costs $151,750 to buy your Design Studio Model X in cash. The estimated delivery date — which may or may not be reliable — is the month of May. The "hubris" of adding too much tech slowed the production of Model X in the past, so maybe this isn't the best option.
If you stick to basics for the 75D (meaning don't do any of the actual customizing that the Design Studio was made for), it will cost $83,000 and be delivered sometime in June.
The Design Studio is one of those things you want to experience on a full computer screen. It isn't optimized for the phone, and constantly zooming in and out on the fine print to decide whether "ventilated front seats that circulate cool, dry air through perforations in the seating surface" are worth it can get tedious.
So if all the recent Tesla talk has you wanting to buy one of your own, head on over to the Design Studio. For everyone who can't afford one, there's no harm in living vicariously through checking all the boxes.