Mark Rylance Is Steven Spielberg's New Favorite Actor
The recent Oscar winner will be in the director's new 'The Kidnapping of Edgardo Mortara.' But where does he stack up against the director's other frequent collaborators?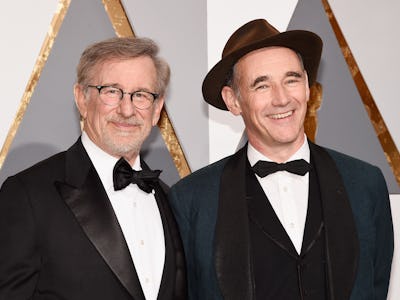 Kevork Djansezian / Getty
Steven Spielberg is the kind of filmmaker who has so many different options of what to direct or create next that it's tough to figure out what's actually going to get made versus the wishful thinking. We'll call it Guillermo del Toro Syndrome. But news just hit that the legendary director will direct a follow up to the meta sci-fi movie Ready Player One, and he looks to enlist the acting services of someone emerging as his new favorite collaborator.
Actor Mark Rylance has joined the cast of the drama, which is scripted by Spielberg's Munich and Lincoln screenwriter Tony Kushner and is scheduled to start shooting in the first quarter of 2017 at some point. Kushner will adapt the movie from author David I. Kertzer's nonfiction book of the same name, which chronicles a Jewish boy who was taken from his parents by the Papal State of Italy in 1858 to be raised as a Catholic. Here's the full synopsis of the book from Amazon:
"Bologna: nightfall, June 1858. A knock sounds at the door of the Jewish merchant Momolo Mortara. Two officers of the Inquisition bust inside and seize Mortara's six-year-old son, Edgardo. As the boy is wrenched from his father's arms, his mother collapses. The reason for his abduction: the boy had been secretly "baptized" by a family servant. According to papal law, the child is therefore a Catholic who can be taken from his family and delivered to a special monastery where his conversion will be completed.
With this terrifying scene, prize-winning historian David I. Kertzer begins the true story of how one boy's kidnapping became a pivotal event in the collapse of the Vatican as a secular power. The book evokes the anguish of a modest merchant's family, the rhythms of daily life in a Jewish ghetto, and also explores, through the revolutionary campaigns of Mazzini and Garibaldi and such personages as Napoleon III, the emergence of Italy as a modern national state. Moving and informative, The Kidnapping of Edgardo Mortara reads as both a historical thriller and an authoritative analysis of how a single human tragedy changed the course of history."
Rylance, who won the Academy Award for Best Supporting Actor for his work in Spielberg's Bridge of Spies, will also be seen in the director's next movie, [The BFG],(https://www.inverse.com/article/13809-in-the-new-bfg-trailer-spielberg-shows-the-bfg-s-face) playing the "Big Friendly Giant" in the adaptation of author Roald Dahl's beloved children's classic. So, a Cold War thriller, a children's fairytale, and a religious drama — that's range, folks. Those three movies also solidify Rylance as Spielberg's newest go-to collaborator, and you know whenever the notoriously tight-knit Spielberg works with you more than once you're probably doing something right.
So where does Rylance stack up with Spielberg's former favorite actor/collaborators in movies he's directed? Let's take a look:
Indiana Jones and the Temple of Doom
Indiana Jones and the Last Crusade
Indiana Jones and the Kingdom of the Crystal Skull
Untitled Indiana Jones Sequel
Tom Hanks
Richard Dreyfuss
Close Encounters of the Third Kind
Mark Rylance
The Kidnapping of Edgardo Mortara
Tom Cruise
So it looks like Rylance has one-upped Tom Cruise to reach Dreyfuss-level of Spielberg favoritism. One more movie and he'll match Tom Hanks, which is no small feat, but he'll have to gain some ground by getting into a rare Spielberg franchise to even come close to Harrison Ford and Spielberg's working relationship.