Remembering The Finest Moments of Nina Krilova of 'The Americans,' Following Her Season 4 Death
Annet Mahendru's character was the most interesting on the FX show, before prison got the best of her.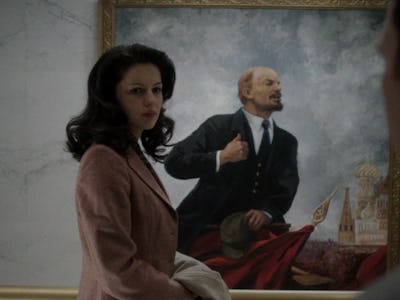 FX Networks
On last week's episode of The Americans Season 4 the path of shapeshifting, often inscrutable and always compelling Nina — played by Annet Mahendru — came to an end, which was both surprising and inevitable.
The Americans has been relatively tame in doling out brutal deaths, and not many major characters have been offed. Nina is a much bigger loss than Chris Amador in Season 1, though she was often depicted somewhere in a confusing netherworld that didn't have much to do with the rest of the show. Even the creators have admitted that they had been planning — and looking for opportunities — to kill her off since early in Season 3. The relocation of Mahendru's character made Russia, for the first time, a regular setting on the show — which felt a little strange, as if The Americans was over-extending its focus. When it existed only offscreen in the world of the show, Russia felt more ominous and dramatically compelling: It was a place with which everyone who served the government had to communicate with in esoteric ways, even at the Rezidentura.
Yet watching Nina attempt to find purpose in her prison life showed us a great deal about her character, when she was in the midst of being a double agent. There were plenty of moments of self-reflection and silent tears which showed the toll that her work had on her. Nina's power was in her staggering resilience; it's hard to think of a character, short of Tyrion Lannister, who endured as much as she did, and found a way to keep doggie-paddling. The implication with Nina was, of course, that being a strong and self-motivated woman was her crime, more so than being a traitor. Eventually, her usefulness was used up, along with that faint speck of hope that keeping her going.
To memorialize what made her great, here are the defining Nina episodes of The Americans.
Stan meets/corners Nina (S1, E2 "The Clock")
This episode is our first introduction to Nina. Stan (Noah Emmerich) brings her the offer she can't refuse, since he has the dirt on her black market dealings. It's hard to recall this backstory now, but Nina was stealing caviar, which allowed her to then sell stereo systems in her home country. Sure, it seems like a convoluted side gig next to her normal Embassy work, but everyone chisels out their own strange little corner in the world. The viewer is instantly fascinated by this irreverent, stoic personality, who holds her composure against Stan, though she knows she's, essentially, screwed.
The seduction of Vasili Nikolaevich (S1, E5 "COMINT")
Nina's first major assignment puts her in the position of using her sexuality to get intel for Stan. It shows the lengths she is willing to go in service of whatever cause she is aligned with. She can tap into emotions, or turn them off, as needed. It's a powerful turn in her character.
Telling off Stan for the death of Vladimir Kosygin (S1, E10, "Only You")
Stan's most ruthless moment in the series (so far) is his murder of Vladimir Kosygin (Vitaly Benko), Nina's friend and fellow embassy employee. Like Nina, he is shot in the back of the head; Stan is the assassin. Nina's grief is effusive, and the viewer feels it, because we know that Kosygin didn't do kill Stan's friend, Agent Amador (Maximiliano Hernández)— that was all the Jennings. Kosygin was, fundamentally, the decent person Nina knows him to be. Stans headstrong mistake inspires Nina to return to the other side as a double agent.
Love affair with Oleg, passing the polygraph (S2, E7 "ARPANET")
Oleg (Costa Ronin), the cocky newcomer to the Rezidentura who Nina has been at odds with before this point, bonds with Nina while teaching her how to fool Agent Gaad (Richard Thomas) and the Feds' lie detector test. They then escape their complicated, confused, beholden existences with some very Western luxury in a decadent hotel suite. In pillow talk with Oleg, Nina throws Stan under the bus where he belongs; she doesn't, apparently, care about him.
Remembering her past (S2, E10 "Yousaf")
To Oleg, in an intimate moment, Nina recalls being a member of the "Young Pioneers" — a Russian political youth group — wearing a pin of Lenin that she prized. Oleg was nearly royalty, but Nina's family was very poor, yet she enjoyed her "simple" life. It's clear in the moment how much she misses the lack of complexity, and the feeling of unfettered freedom.
Goodbye to America (S2, E13, "Echo")
Stan waits, watching, in the car, outside the Rezidentura, as Nina is led out to be deported, back to Moscow. He chose retaining the precious Echo program over giving it to Arkady (Lev Gorn) in exchange for Nina's freedom — or life. On the steps of the embassy, defeated and bruised, Nina looks back at Oleg and Arkady with sad compassion, and sees Stan as well. Her lingering stare implies she had more fondness for him than she led Oleg to believe.
The betrayal of Evi (S3, E6 "Born Again")
One of the hardest Nina moments to stomach — but her most powerful performances — comes when she sells out her Swedish cellmate Evi (Katja Herbers) in exchange, supposedly, for a reduced sentence. The moment of truth comes after a few episodes of watching Nina get close to her. As with Stan when Nina becomes a double agent selling intel about the FBI to the Russians, Nina is so good at her job that the viewer struggles to believe that shes really going to carry out her cold-hearted assignment — one of the worst she's ever had to do. But when it happens — in a viscerally discomfiting moment — we realize how hardened Nina's life of "government service" (in the most dastardly respect possible) has made her.