'Brad Neely's Harg Nallin' Sclopio Peepio' Looks Dope
Adult Swim's animated sketch comedy follow-up to 'China, IL' will be exactly what we wanted from Brad Neely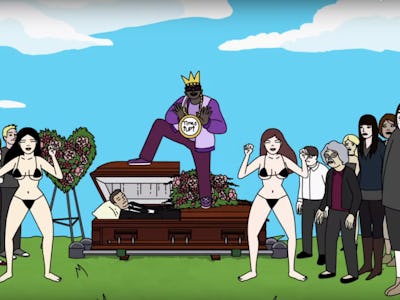 We were psyched for Brad Neely's next Adult Swim project, back when it was called TV Sucks, and though he has since changed the show's title, the (much easier to pronounce) Harg Nallin' Sclopio Peepio appears, in its first teaser, to be exactly what we were hoping for. Neely's second Adult Swim show, following China, IL, is going to be great. In fact, Neely himself gave us the business back in December.
Neely, who rose to internet fame with his film dub Wizard People, Dear Reader, has worked in narrative television and published web comics for years. His animated sketch show will likely be a return to the quick-and-dirty bits like his original Professor Brothers clips, which is good news. Although he's a gifted storyteller, Neely is at the top of his game writing succinct, witty comedy about human bodies.
The teaser suggests that Neely will use images from Naked and Afraid, Breaking Bad, Predator, and Alice In Wonderland, along with a lot of anthropomorphized objects and original characters. Babycakes does make a quick appearance in the teaser, although it's unclear how large of a role he'll have in the neon, hallucinatory gumbo Neely has created.
Neely's new show will return this summer to an evolving Adult Swim network, which has recently produced some of the best experimental horror and mobile gaming. Even the Emmys announced an intention to consider awarding more unusual media. The press release name-dropped Adult Swim specifically, as a possible source of new, critically acclaimed media.
Here's hoping we live in a world tender and glittering enough to see the creator of The Professor Brothers win an Emmy in animation or TV writing.