Will Brad Neely Succeed With 'TV Sucks'?
Adult Swim's only new programming for the 2015-2016 season could be the hit creator Brad Neely deserves.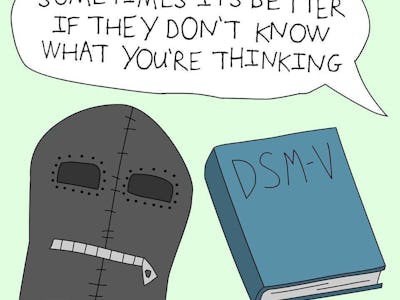 Long-time fans of animator Brad Neely's work had mixed reactions to China, IL, Neely's first televised series. The series, which ran on Adult Swim for three seasons, employed a mainstream sitcom format which Neely's previous work had ignored, and even mocked. China, IL raised Adult Swim's viewership by 9%, and the viewers for its second season doubled the number of viewers tuning into its first. When the show didn't quite reach the scale that Cartoon Network had hoped, it was abruptly cancelled in favor of a new direction. When Adult Swim premieres Neely's new TV Sucks, the channel's only new programming for its 2015-2016 season, it will need to benefit from capitalizing on Neely's gifts, and avoid some of the mis-steps that derailed China, IL.
Adult Swim had significant success with the second season of Rick and Morty in 2015, and it's difficult to ignore the parallels between Brad Neely and Rick and Morty creator Justin Roiland's careers. Both animators released free videos via YouTube, which eventually developed into original series runs on Adult Swim. But something allowed Rick and Morty to become one of the most critically acclaimed television series in 2015 while China, IL flew under the mainstream radar for three seasons. Judging by online views alone, Neely's work has been consistently more popular than Roiland's independent animation for years. Neely would serve himself well if he returned to his roots.
Neely endeared himself to stoned millennials everywhere when he released Wizard People, Dear Reader, an unauthorized soundtrack to Harry Potter and the Sorcerer's Stone. The New York Underground Film Festival screened the entire project in 2004, and Illegal Art offered Neely's new film as a free download. Neely began a live tour to promote Wizard People which was cut short when Warner Bros. took legal issue with the screenings.
Wizard People, Dear Reader took Neely a week to produce, and he recorded his original commentary and character dialogue synced with the first film in the Harry Potter franchise. Wizard People became an immediate cult classic because of its irreverence. Though the project lampooned a popular franchise, it was created with no interest in the original subject matter. Neely admitted in interviews that he had never seen any of the Harry Potter films, nor read the books.
A great slice of Neely's appeal has to do with his verbose description, an aspect of his humor which was largely forgotten in China, IL. Wizard People is the perfect example of Neely in his element. Narrating the Harry Potter film through a warbling impression of poet Jesse Bernstein, Neely describes Voldemort as moving "like a marmalade baby just out of the womb." When Harry slinks off to his bedroom under the stairs, Neely's narrator says "Harry, in a spiral of depression, turn[ed] to the escape of the world of miniature equine aficionada."
In 2009, Neely released an animated short called "Cox and Combs' George Washington" on his personal Youtube account. To date, the video has over 3 million views. It features Neely's scrawled drawings of George Washington defeating the first president's imagined enemies, and the sketch is set to a jazzy soundtrack and lyrics like "I heard he once held an opponent's wife hand / in a jar of acid / at a party" and "he'll save children / but not the British children." It was the first of Neely's many historical gags, and it introduced his skills in writing song parodies.
Neely's next videos featured Babycakes, an oddly observant man-baby who records his own video diaries. The cartoonist employed witty description again here; in one short entitled "Babycakes Sees a Play," Babycakes says the crowd at a Shakespeare performance looks too serious to him, as if they "could all see and hear important ghosts." By viewing classic literature and pondering existential questions through the eyes of a lumbering, naive cartoon character, Neely injected his videos with a signature irony.
The Professor Brothers, a companion series of similarly animated shorts, followed Babycakes' video diaries. In one Babycakes video, "The In-House Carol," Neely revealed his three main characters existed in the same universe, in which Babycakes' father, Mr. Cakes, is a professor at the same school which employs the Professor Brothers, Frank and Steve. This new comprehensive setting allowed Neely to begin satirizing the world of academia. He began portraying Professor Steve as lazy and conniving, and his brother Professor Frank as uber-sensitive, panicked, and egotistical. The professors give biting lectures on high-brow topics including the biblical myth of Lot and the death of Jesus, on Kennedy and cinema studies. Together, these characters framed Neely's critical view of collegiate culture, which eventually evolved into China, IL.
China, IL was not Adult Swim's first collaboration with Neely; the channel had previously distributed "America Now," a 12-part musical series of sketches on contemporary American patriotism. It was also not Neely's only experience with broadcast television, as he worked as a consultant on South Park prior to China, IL's release.
Yet somehow, China, IL seemed to forget how to bottle up Neely's style. For instance, each of Neely's isolated shorts have been more widely viewed, and are arguably more memorable, than any of the videos he's produced in an attempt to force plot into either the Professor Brothers or Babycakes' stories, which is what China, IL attempts to do. One-shot sketches like Kenny Winker's "Now We Can Make Love," "Whopper and a Forty" and "Fuck the Humans" are much more effective alone.
The stronger episodes of China, IL lean heavily into Neely's surrealism, and further away from the concerns of more realistic characters like Pony, a student voiced by Greta Gerwig who was added into the show as an access point for audiences unfamiliar with Neely's original, wackier characters. Neely's work sings when it follows storylines like Babyface defeating his old childhood imaginary friend, the Dream Reamer.
TV Sucks is like an exciting enterprise for both Neely and Adult Swim, as its fifteen-minute sketch-show structure will force Neely to return to the template he's mastered over the last decade. Adult Swim, after the success of Seth Green's Robot Chicken, the channel's "Infomercials" block (which skyrocketed the "Too Many Cooks" team to cult status) and the release of OFWGKTA's Loiter Squad, can only benefit from additional sketch shows, which recall the odd segue videos it once ran between its programming.
If Adult Swim gives Neely space to create more characters like Frank, Steve, and Babycakes, instead of encouraging him to complicate his ideas and place what have been called his "gleefully deranged" bits into a realistic context, the channel, and the show, will end up better off. Watching Neely deliver on his vision is a thrilling thought for his large audience; here's to hoping that TV Sucks finds the formula.