Myriad Gives 'Supergirl' the Fight of Her Life
Part one of the two-part season finale proves Supergirl is truly one of the world's finest.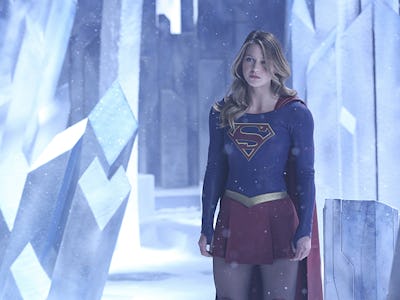 CBS
Freshman year for Supergirl is almost done, and what a year it's been. Though its summer trailer looked more Devil Wears Prada than Man of Steel (not that I think that's a bad thing), Supergirl eventually won over genre fans and now flies full speed into its blockbuster season finale.
"Myriad" is only the beginning of the end, serving up Part 1 of the two-part season finale where Non (Chris Vance) has set forth his ultimate plan, Myriad, holding all of National City under his mind control — except Supergirl (Melissa Benoist), Cat Grant (Calista Flockhart), and the slightly mad billionaire Maxwell Lord (Peter Facinelli). Together, they desperately try to reverse Myriad and take back control of the city.
Cheesy? Yeah. Typical superhero stuff? Absolutely. Shallow resonance with topical themes? You bet, our circus of a presidential race and climate change were both mentioned. But Supergirl still manages to impress and rise above convention with a smash and bash between Supergirl and DC Comics character Maxima (fellow wrestling fans: It's Eve Torres!), which one-ups her fight with the Master Jailer. The fight challenges its debatably three-dimensional characters into a satisfying place in the narrative where, hopefully, next week will wrap up every thread sewn since the show's pilot.
Kara, at first, is alone. Myriad has controlled all of National City, but as luck would have it, Cat is immune, thanks to special new earrings from Maxwell Lord. National City gets quarantined by orders of the President, but that doesn't stop Alex (Chyler Leigh) and J'onn (David Harewood) — on the run since we last saw them — from trying to lend a hand. (Which goes really, really south.) All its main plots are tight and delivered excellently, save for some bumps along the way.
One big bump: "Myriad" goes to great lengths to get Kara into the predicament she's in. Can Superman help? Nope, because while he was waived off as handling a situation "off world", which would have been sufficient, Superman later appears (from a hilariously far point-of-view) only to be subject to Myriad. For a dumb, convoluted reason too. As a Kryptonian Kara is immune, but Superman isn't because Clark Kent was raised human. You could have quite while you were ahead, Supergirl. You didn't have to shoulder this extra weight.
But Supergirl does shoulder much; it's both impressive how much the whole season matters, as well as how dizzying it can get trying to keep track of every reference or plot thread. From Black Mercy and Alex's kryptonite sword to last episode's revelation that Jeremiah Danvers (Dean Cain) is still alive, not to mention Kara and Jimmy Olsen (Mechad Brooks) on the verge of becoming an item, Supergirl is paying off one hell of a bar tab. Probably not all of it will be solved next week (I'm guessing the Jeremiah Danvers mystery will be saved for Season 2) but it is nice to know a CBS broadcast series isn't treating continuity lackadaisical.
Maybe Supergirl did take on more than she can handle, but we're with her until the end, and no doubt the beginning of Season 2.