While You Wait for 'Billions' Season 2, Here's 8 Finance Bro Classics
Sample the most dastardly rich white men of the past few decades in 'Boiler Room,' 'Wall Street,' and more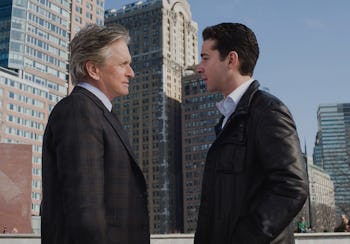 officialwallstreetmoneyneversleeps/Facebook
Disappointed that there's no more of Showtime's runaway hit of a hedge-fund drama Billions until at least next year? Never fear, the ghost of Bobby Axelrod appears in almost too much cinema and television from the past several decades. Here's a playlist for curing your withdrawal; all the millionaires and billion*aires in these works get just as dirty — if not dirtier — than Damian Lewis's iconic, morally ambiguous stocks emperor.
The Firm (1993)
Sure, it's not finance, but it's all about protecting fortune. No wealth came at a higher price than at a mysterious Memphis law firm, where enterprising law student (Mitch McDeere) takes a too-good-to-be-true job right after graduating from Harvard. The 1993 Hollywood adapation of John Grisham's bestselling novel is an almost perfectly executed work, and from Tootsie visionary Sydney Pollack, no less. The sordid world of Bendini, Lambert & Locke resembles the cultish atmosphere and ruthless, behind-closed-doors tactics of Axe Capital, though Grisham's universe is much more fanciful — like Rosemary's Baby in the law world. If you like it, go ahead and check out The Pelican Brief and The Devil's Advocate.
Glengarry Glen Ross (1992)
Billions owes a great deal to playwright/screenwriter/director David Mamet, who invented the type of crass, fast-talking, one-liner banter that keeps Billions barreling along at such a breathless pace. 1992's Glengarry is Mamet's no-holds-barred, over-the-top masterpiece; like Billions, its fundamental, highly stylized absurdity is more than sold by its unprecedented all-star cast of veteran actors. Tommy's Shakespearean pep talks have a lot to do with real estate agent Alec Baldwin's notorious opening lecture.
Boiler Room (2000)
Before The Wolf of Wall Street — which is also great — 2000's Boiler Room was the definitive testament to Long Island bros making a lot of money selling crappy stocks, all far too young to know what the hell they were doing. The result: debauchery and debasement. The Bobby Axelrod correlate in the movie? Ben Affleck as business shock jock Jim Young, whose monologue to his room full of hungry, kinda dumb young brokers is the hilarious Mr. Pibb to Alec Baldwin's Dr. Pepper. You are the future big swinging dicks of this firm," he yells, and that's Boiler Room in a nutshell.
Arbitrage (2012)
Richard Gere is Robert Miller, a hedge fund manager like Bobby Axelrod. He's willing to do anything to do anything to save his empire, just like Axelrod and, of course, Lucious Lyon. Of course, like both TV companies, his fund is built on a heap of lies, deceit, and crime — in this case, there's crooked books and murder behind the billions. Throw Susan Sarandon and Tim Roth in and you've got a movie no Billions or white-collar-crime thriller freak could possibly reject.
Madoff (miniseries, 2016)
If you want to go a more extreme version of the Arbitage route, check out the Richard Dreyfuss-starring miniseries Madoff which debuted on ABC this year. Dreyfuss as Madoff — the Walter White of selling anyone a raw financial deal — is a revelation: a loose cannon with far more personality than the script he's delivering. Like in Billions, the energized, unpredictable acting, even more than the details of the financial intrigue, is the reason to watch.
The Wall Street films (1987/2010)
Billions' creators admit that they were influenced by Oliver Stone's cocaine-driven, stock-market masterpiece, Wall Street, and its 2010 sequel is easily the most batshit crazy piece of finance-core cinema of the '10s. It's basically a montage of stock tickers, sex, and dramatic confrontations between a silver-fox Michael Douglas and his hungry, confused broker of a son-in-law Shia LaBoeuf. It's the postmodern masterpiece of the bro-finance genre, and definitely the most challenging and mind-altering watch on this list.
Enron: The Smartest Guys in the Room (documentary 2002)
This is a bleak story that is fresh in much of the world's memory. But did you know how hard this evil men partied while the world burned? In the wake of Billions — and definitely The Big Short — there's no better the-American-economy-is-BS documentary to sample than Alex Gibney's (Going Clear, Silence in the House of God) a prescient 2005 film.