Star-Lord Will Join 'Avengers: Infinity War,' Director Hints
The end to the MCU, 'Avengers: Infinity War' will feature two of Marvel's galactic finest.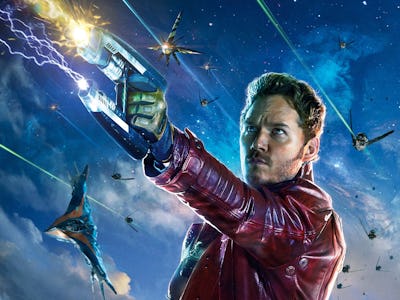 Disney
While there is still a month before Captain America: Civil War lands in theaters, filmmakers Joe and Anthony Russo are already at work developing the next major Marvel installment, Avengers: Infinity War, the two-part climax of the Marvel Cinematic Universe, releasing in 2018 and 2019. Speaking about that film over the weekend (because comic book press are always looking ahead), the filmmakers apparently confirmed the inclusion of two characters: Star-Lord (Chris Pratt, Guardians of the Galaxy) and Thor (Chris Hemsworth).
In talking to ComicBook, Anthony Russo said he and brother Joe are "big fans" of James Gunn's work in Guardians of the Galaxy. "The movies are intended to be a culmination of everything that's happened before in the MCU," Russo told ComicBook.
He added: "Star-Lord is a fantastic character and Chris Pratt is an awesome performer so you'd be very excited."
It'd be hard to drop a heavier hint about Star-Lord's inclusion in the film than that.
The filmmakers also discussed Thor's place in the sequel.
"I'm excited to work with Thor," Joe Russo tells ComicBook. "[Marvel is] doing some really interesting stuff with Ragnarok and where he's gonna be at the beginning of Infinity War is gonna be a very interesting place and I think very profound. I think he's gonna have a real emotional motivation after that."
It may not seem like a big deal that Thor, one of the stars of The Avengers and Avengers: Age of Ultron, is going to be in Avengers: Infinity War, but fans of the comic (or Norse myth) knows this is big news.
The next Thor movie, Thor: Ragnarok coming July 28, 2017, will borrow heavily from the Ragnarok storyline where Thor must save Asgard from the doomsday catastrophe Ragnarok. In Norse mythology, Ragnarok is a series of events that ends with the death of Thor, Odin, Loki, and others and renews the world with a new generation of gods. In Marvel Comics, Ragnarok is a robotic clone of Thor who fought in Thor's place during the Civil War comics.
At the Marvel Event in 2014, Kevin Feige said Thor: Ragnarok will have game-changing ramifications for the MCU, much like Captain America: The Winter Soldier (which tore down S.H.I.E.L.D.). What this could mean is anyone's guess, but that Thor will be in Infinity War means we can all relax about any sort of permanent death on Hemsworth's beefy Norse superhero.
Meanswhile, Pratt's intergalactic rebel Star-Lord from Guardians of the Galaxy is the first of the non-Avenger confirmed for Infinity War. The MCU is full of superheroes and characters who aren't part of that team, from the Agents of S.H.I.E.L.D. to the Netflix superheroes (Daredevil, Jessica Jones, Luke Cage, Iron Fist) and auxiliary characters (Punisher, Elektra, Hellcat, a rumored Shang-Chi in Iron Fist). Star-Lord is only the first to make the cut, with possibly more — maybe his Guardians of the Galaxy teammates — to be confirmed later. We'll see how big Groot gets by then.
Captain America: Civil War hits theaters May 6 an Avengers: Infinity War coming May 4, 2018 and Part 2 May 3, 2019.