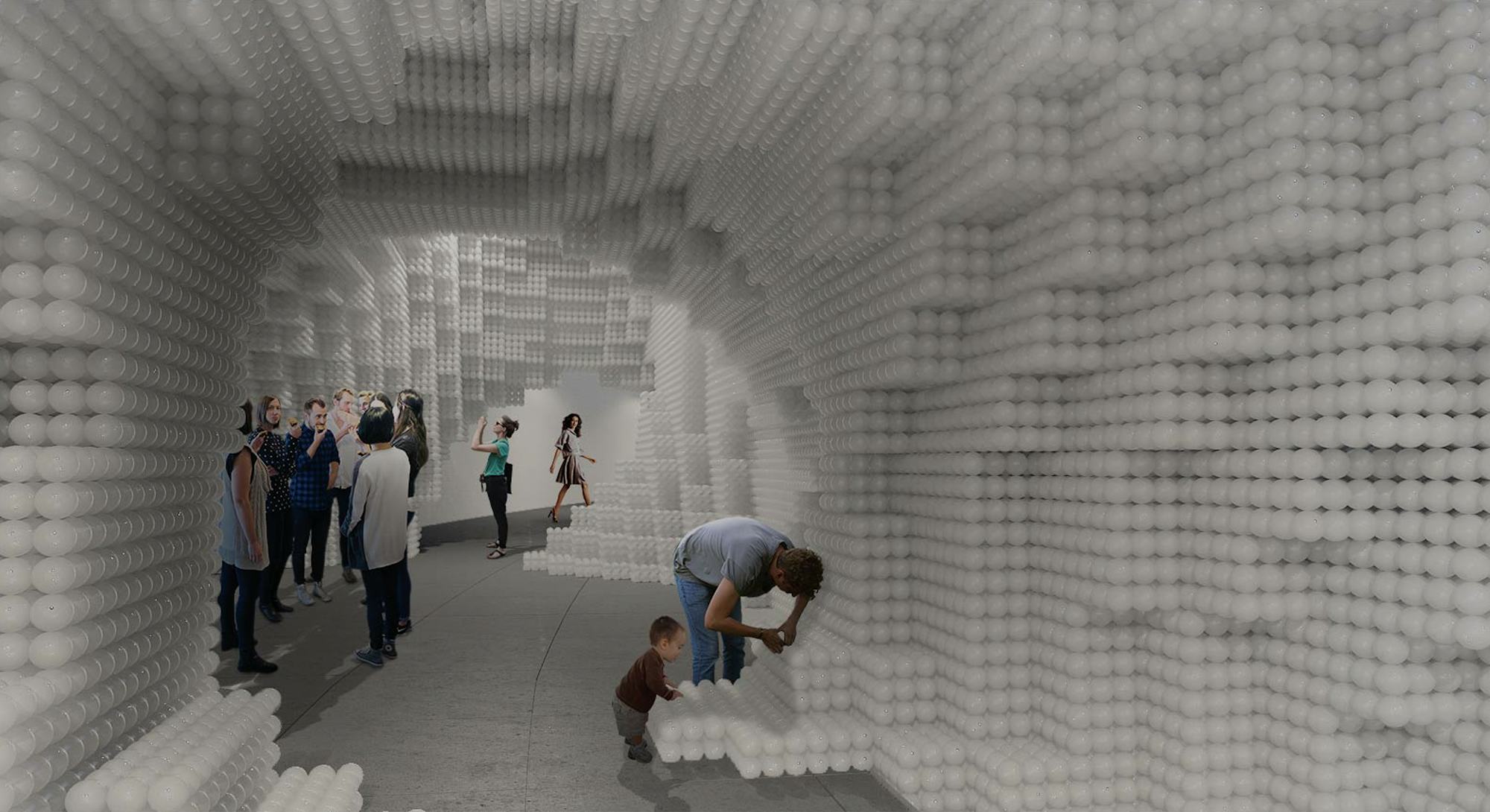 Culture
D.C.'s Dupont Underground Trolley Station Turns Into an Art Gallery 
What kind of art display can you make with over 650,000 plastic balls? 
Dupont Underground
Envision walking through a cave of opaque plastic balls — some hang from the ceiling like stalactites while others are arranged in cubes that can be stacked. The curved cavern has a soft glow from the light passing through the translucent plastic material, which seems unusual since you're walking through the forgotten trolley platforms beneath the historic center of Washington, D.C.
Under Dupont Circle, the massive traffic circle that connects five of D.C.'s busiest streets, lies Dupont Underground, an old trolley station turned art gallery.
"It's definitely a slice of D.C. history, but it's like turning space on its head," Dupont Underground board member and chief creative contrarian Philippa Hughes tells Inverse. "When people think of space, they think of four walls that are painted white and they're squared, whereas this place is a big curve and it's definitely not white."
The new public art space will open on April 30, as the Dupont Underground Art Coalition recently announced the first installation designed by New York City architecture firm Hou de Sousa that incorporates over 650,000 plastic white balls (like the ones you find in playground ball pits).
Art enthusiasts will still be able to tell they are walking through a trolley station. The Dupont Underground developers are adamant on leaving behind vestiges of the old system, such as the trolley tracks. On Thursday, Hughes walked a building inspector through the tunnels. She and her colleagues worried that the inspector would request that they remove them, but he saw how the space transports you to another place and time.
A Space That Has Shifted Through the Ages
During the 20th century, Washington, D.C.'s streets were crawling with electric streetcars. After World War II, congestion was so bad the city decided to open an underground trolley system in 1948, the tunnels snaking underneath Dupont Circle in the formation of a compass needle. But, the tunnels were shortly closed off in 1962 because of declining ridership and the rise of automobiles.
The trolley station has been morphed to serve the city throughout history. It was once filled with D.C.'s homeless population, had a short stint as a problematic food court in the mid-'90s, and sections of the tunnels became fallout shelters to protect water, rations, and equipment in the event of a nuclear war during the 1970s. During excavation, the Dupont Underground team discovered tins of crackers, reminders of the station's rich history.
However, all these previous uses of the underground were short-lived. The Dupont Underground team hopes the flexibility of the gallery will stick around. The project is the brainchild of architect Julian Hunt, who noticed the sets of trolley tracks running parallel to the street traffic. When he discovered the unused 75,000-square-foot space, he decided to make something of it, forming the Dupont Underground nonprofit organization in 2003.
"When I discovered the old trolley station," Hunt said, "I realized that I had stumbled onto a compelling, vital place to make something happen right below one of the District's iconic public spaces."
The Dupont Underground Art Coalition signed a five-year-lease with the city two years ago which gives access to all the underground tunnels. However, because of safety issues and lack of exits in some of the tunnels, the Dupont Underground art gallery is limited to the east platform. The space will constantly rotate with art and design exhibitions, public arts performances, community events, and more.
Dupont Underground's Competition
In order to select the first exhibition in the gallery, Dupont Underground proposed the design competition Re-Ball!, calling upon designers and artists to come up with an installation that reused the over 650,000 ball-pit balls that were a part of the Beach installation at the National Building Museum's Great Hall. At the Beach installation, visitors got to play in an "ocean" of recyclable translucent balls, and Dupont Underground wanted to continue this interactivity in the gallery.
The Re-Ball! contest attracted more than 150 entrants and 92 completed proposals from 19 different countries. The jury of art and design curators and practitioners even reviewed a glittered submission from a second grade class at McKinley Elementary School in Arlington, Virginia.
After looking over the elaborate installations from top-tier design firms, the jury selected Hous de Sousa's interactive assembly block system called Raise/Raze. Hous de Sousa's designers will set up the initial pre-assembled worlds or zones, but the rest will be a playground for visitors to interact with the display.
"We were intrigued by the fact that there would be a finite quantity of building material (650k balls broken down into 24k cubes), which would result in a dynamic and direct relationship between creation and destruction," the Hous de Sousa architects wrote in a statement about Raise/Raze.
"Raise/Raze is a like sand in massive sandbox, something akin to a life sized Lego set, or a real-world version of the popular video game Minecraft, which allowing users to alter their surroundings with ease."
The project is also community oriented, with volunteers trekking down the tunnels to excavate and hot glue the plastic balls together to make the over 10,000 cubes that will fill the space.
The Future of Art Spaces in D.C.
The developers were inspired by the many other revitalized abandoned structures popping up, such as New York City's Lowline project and Alvéole 14, a submarine base turned into an art gallery in France. But what makes Dupont Underground different from these other transformed spaces, is that it will be "raw," says Hughes. "It's not about hanging out there. It's just about experiencing art."
Hughes also foresees that places like Dupont Underground may be the only spaces for artists to experiment and display their work in developing cities.
Washington, D.C. has been experiencing an enormous amount of growth. The Metropolitan Washington Council of Governments has predicted the population will expand from 672,000 residents as of 2015 to nearly one million in 30 years. But such rapid development has hiked up property prices.
"At the end of the day, artists can't really afford the kind of rent that development causes," says Hughes. "I think maybe what's going to have to happen is that public space is going to become our art space. It's going to have to be if we want to live among artists and live among the art. We're going to have to rely on the public space to make that happen."
The first showing of Raise/Raze in Dupont Underground will be on April 30 and will run until June 1. There are no set plans for future installations, but perhaps the next one will tie with the presidential elections, says Hughes. Regardless, we should expect something "even more wacky and different" than a trolley tunnel filled with ghostly white plastic balls.