Revisiting 'Fear the Walking Dead' Season 1, Which is Streaming Now
'Fear the Walking Dead' returns this Sunday on AMC, so let's dive back into its troubled freshman season.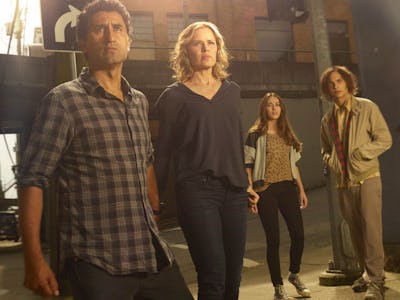 AMC
Before Negan, before Alexandria, before wolves and governors and crossbows, there was Fear the Walking Dead.
Returning this Sunday on AMC for its second season, Fear the Walking Dead is the standalone prequel/spin-off to the monster hit drama The Walking Dead following a family as it endures civilization's last days before the zombie apocalypse. In an era of cinematic universes and crossovers, Fear the Walking Dead stood independently, refreshingly absent of winks and cameos connecting to The Walking Dead. The result: a show that didn't feel like a cheap ploy to keep viewers hooked during the off-season. At the same time, it also disappointing.
As most zombie stories since the dawn of George Romero have gone, The Walking Dead is about strangers who become family against all gruesome odds. Fear the Walking Dead, on the other hand, is about a family that just can't hold it together. High school guidance counselor Madison (Kim Dickens) along with her two kids — overachiever Alicia (Alycia Debnam-Carey) and druggie Nick (Frank Dillane) — join Madison's boyfriend Travis (Cliff Curtis), ex-wife Liza (Elizabeth Rodriguez), and their disgruntled activist son Chris (Lorenzo James Henrie) to make a fucked up Brady Bunch as they escape Los Angeles at the dawn of an outbreak that turns into the zombie apocalypse.
More characters join along the way, like Ofelia Salazar (Mercedes Mason) and her immigrant Salvadorian parents and the mysterious Victor Strand (Colman Domingo), a suit and tie with a past he's trying to hide.
Though just six episodes set in what should have been a crazy time in Walking Dead lore, Fear the Walking Dead was a dreadfully elongated slog, and its characters couldn't accept what they were seeing — straight up zombies, yo — fast enough. What should have been an exciting and enlightening dive into the origins of The Walking Dead, Fear the Walking Dead opted for an urban/suburban family drama with a few zombies around the corner.
While most of the season is an occupation dystopia with the U.S. National Guard overtaking Travis's family's neighborhood and imposing curfews, eventually the Guard abandons them as zombies are unleashed from their HQ. This compels our characters, with the strange Victor Strand, to seek refuge at his lush southern Californian shore home and to escape upon his yacht Abigail. (Boats are a popular solution in Walking Dead; a major goal in The Walking Dead: Season 1 video game involved finding a boat to escape.) And this is how Season 2 begins.
According to the producers in the video below, Fear the Walking Dead Season 2 will continue the show's premise as a character study using apocalypse as backdrop. That's not terribly different than the primary Walking Dead, but Fear explores the world — or what's left of it — only learning about its new status quo. Recall that The Walking Dead began with a comatose Rick rudely awoken into a world already gone mad. Fear the Walking Dead is witnessing the slow descent. How will the characters react now in Season 2, when the apocalypse is no longer a thing anyone hopes just blows over?
Though crossovers are in in vogue, it's not quite the goal for either Walking Dead sibling. Besides a totally off timeline, Walking Dead isn't much of a living, breathing universe like Marvel or DC where it can plausibly happen. Not that this world is living anymore anyway.