The 'Flash' and 'Supergirl' Crossover Episode Is Almost Here
CBS has officially released the first poster for the upcoming 'Flash'/Supergirl' crossover episode alongside some new background info.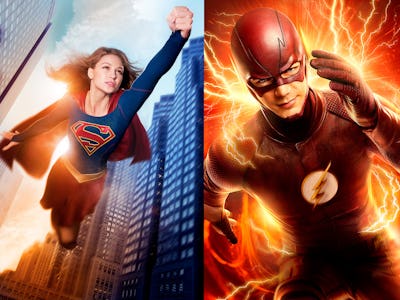 ew.com
Just a few moments ago, CBS released the first poster for this season's hotly anticipated crossover episode called, "World's Finest" which finds the CW's Barry Allen (aka, the Flash) crossing through yet another dimensional gateway and landing in the world of Kara Danvers (aka, Supergirl).
Speculation began pretty much when Supergirl premiered and producer Greg Berlanti openly declared that he'd love to see a crossover episode.
Perhaps the biggest hope running through the minds of the Supergirl producers is that Barry Allen's appearance might boost the show's struggling ratings, which have continued to plummet since the pilot aired. The Flash, meanwhile, enjoys great cable success, solid ratings, and an all-around more active fanbase.
According to Variety, "The story for the episode hails from [producer] Greg Berlanti, with the teleplay penned by executive producer Andrew Kreisberg and Michael Grassi. "Worlds Finest" was directed by Nick Gomez."