Uffie Teases New Tracks, Taking Us Back to the Days of Myspace
The queen of Myspace electropop is apparently making a comeback.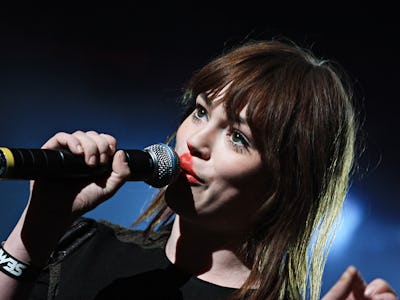 Flickr/Hyunji Choi
The days of Myspace feel so distant, but we're only talking eight or nine years ago that I was updating my profile's layout every week and setting up the self-timer on my Nikon Coolpix. I rearranged my Top 8 daily based on my petty middle school whims, flushed out the "Music" section of my profile by taking a few hours to copy paste the entire Artists section of my iPod, and painstakingly picked the perfect song for my profile. After all, the song could make or break my adolescent Internet presence: it needed to be frequently updated, and it needed to be current, which meant it was probably some kitschy electropop tune. The beyond-my-years Internet pop that permeated Myspace culture was born out of the strangely fascinating and niche subculture Myspace created.
The Myspace aesthetic, largely influenced by the scene appeal, gave rise to a specific kind of sheeny electropop: think Jeffree Star, Medic Droid, or Tila Tequila. These singers relied very little on their vocal talents, often producing palpable ennui, and heavily on autotune. They sang—if you can even call it that—about overtly sexual topics, drugs, and other crass subjects that were highly inappropriate for their intended audiences. Myspace culture may feel buried in the past, but a morsel of it resurfaced today. Uffie, the autotuned queen of glossy Myspace pop, is apparently making a comeback.
In 2006, peak Myspace days, Uffie released the song she's still most known for "Pop The Glock," which features the lyrics "When I rock the party you bust a nut," and later appeared on her official 2010 LP Sex Dreams and Denim Jeans. Uffie gained enough traction to even warrant a Pharrell Williams feature on the drug-referencing "ADD SUV." After that she more or less fizzled into obscurity. That is until now: Uffie has teased two new songs, "Tied Up" and "Sassy" on her Facebook page. "Sassy" is a bass-heavy club banger reminiscent of her earlier material with the repeated line that lazily achieves a rhyme by throwing in the word "yup": "Psychos put your hands up, time to take a stand yup." "Tied Up," on the other hand, is more intimate and features Uffie's seemingly unaltered voice.
Uffie's music is reminiscent of a specifically strange and dark time on the Internet, but it actually bears a resemblance to some of the music that's become popular in recent years. PC Music is the example that hits me like a brick with a clear debt to Uffie. The glossy sheen of PC music, although it may be rooted in irony, owes some of its robotic and lustrous appeal to Myspace artists like Uffie. It looks like Uffie isn't down with being rooted in the past—teasing new two songs hints at an Uffie Renaissaince and perhaps a wider revisitation of Myspace culture.