Kik Messenger's Choose Your Own Adventure Bot Takes You to Outer Space
A delight, especially if you're too old to use Kik.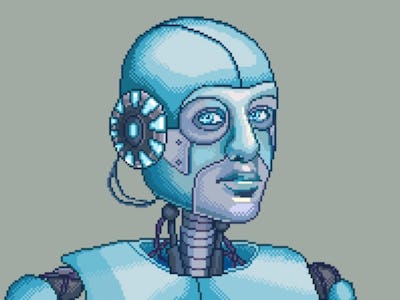 Arterra
The messaging app Kik debuted a new bot store today to prove its relevance amidst a world of Facebook, Snapchat, Instagram, and Twitter users (or not Twitter users). The bots come ready for chat, search, and video sharing, with a trendy list of partners like Funny Or Die and the makeup store Sephora.
If you were born before 1996 you are, statistically speaking, unfamiliar with Kik. The short explanation is that it's a smartphone messenger along the lines of WhatsApp. But with this new update, it's a messenger that has artificially intelligent bots to chat with when all your friends get old and start using Facebook.
The bots are hyper-specialized for their intended audience. It's a direct advertiser's dream. The Weather Channel bot cuts the fat of checking the weather by Kiking it to you directly, the Funny Or Die bot sends you random clips of your favorite shows, and the Sephora bot will push you in the direction of what makeup to get.
But it's a bot that isn't trying to sell me anything that hooked me. That bot was Arterra: a chat-based Choose Your Own adventure game exclusively on Kik. It introduces itself like this:
100 years in the future, Earth is crumbling. Our best hope is the planet Arterra, the only other world capable of supporting life. But all is not as it seems on Arterra. Ships have been crashing, colonists disappearing… too many to be accidents. People are desperate to find out why - and a conflict is brewing that threatens to tear the fragile colony apart.
Arterra is a digital version of the Choose Your Own adventure novels of the 1980s. Done the right way, this style of story comes in actual book form. (And they are a hell of a lot better than adult coloring books.)
Living inside of Kik, Arterra doesn't have the nostalgia-inducing smell of yellowing pages, but it does have just about everything else a good Choose Your Own adventure story has. The user must to talk to characters, play mini-games, join a faction, and save — then name — a personal robot assistant. Following the primary trope of every major adventure tale, the end goal is to save a damsel in distress.
It's mind-numbingly entertaining in all the right ways.
Kik is starting with just 16 bots. Anyone can make new bots, though. And CEO Ted Livingston projects that thousands of bots will be made before the start of 2017. Even if bots aren't the saving grace for Kik, Choose Your Own adventure bots might be a temporary saving grace for struggling writers and yesteryear-yearning 80s kids.