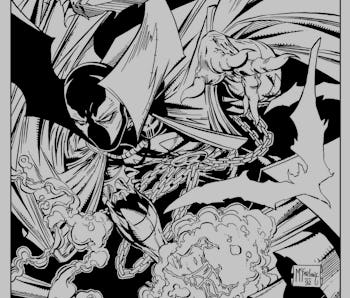 Entertainment
Image Comics 'Spawn' Adult Coloring Book Is Accidental Man Child Commentary
A coloring book for Spawn, a superhero who killed a child murderer in his fifth issue.
Image Comics
Adult coloring books are one of those new trends that make you want to worry about our culture's obsession with retaining childhood, but some experts have deemed them to be quite therapeutic. But when you factor in the arrested development of nerds of a certain type — i.e., Warner Bros. pursuing an R-rated Batman v Superman: Dawn of Justice, a movie engineered to sell toys — you have to wonder what audience comic book adult coloring books are serving, and what for. Image Comics, the publishing house started by Marvel expats, will be publishing adult coloring books of Spawn in a move that is hilariously tone deaf however unintentional.
Posted on Image's website are previews of the Spawn Adult Coloring Book, slated for release on April 19 for a neat $12.99. The included art comes from Spawn creator Todd McFarlane himself, so if you've ever dreamed about inking art from the guy that revolutionized how Spider-Man is drawn, then maybe that's the real appeal.
But a coloring book for Spawn, a dark superhero whose powers come from hell itself, straddles the line between satire and tone-deaf enabling of gross nerds who love the Punisher and think Superman is boring. It's a kind of nerdom I refuse to subscribe to, and it gets my blood boiling whenever I hear comic fans cheer for R-rated comic book movies, even if it is appropriate for the Spawn character.
Maybe I need something to relax. Maybe I'll try a coloring book.