In The New 'BFG' Trailer, Spielberg Shows the BFG's Face
Steven Spielberg's interpretation of Roald Dahl's colossus gets his first close-up.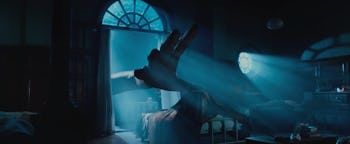 Disney
When it was announced that Steven Spielberg would be putting Roald Dahl's beloved character on the big screen, the first question was: What's he gonna look like? The first teaser for The BFG didn't give us much. (That's probably why they called it a "teaser.") But, now, we have it: The first official trailer, which teases and then crescendos with a full-on reveal of the big guy's face. He's a wonderful hybrid of cartoon and Spielberg's Oscar-winning Bridge of Spies star, Mark Rylance.
The film also stars Ruby Barnhill, who plays the film's protagonist, Sophie, a young orphan girl living in London who meets the BFG when he appears at her window (the guy is 24-feet tall, after all). The film has been in development since the turn of the 21st century, and computer graphics and motion capture have finally advanced enough to make it as visually compelling as the novel from which it is adapted.
Check out the trailer below and gear up for the film's release on July 1. You may even want to stock up on some Bruce Banner.