'The BFG' Movie Trailer Gives Off Definite 'Hugo' Vibes
The director's new movie, set for release next summer, follows this year's Cold War thriller 'Bridge of Spies.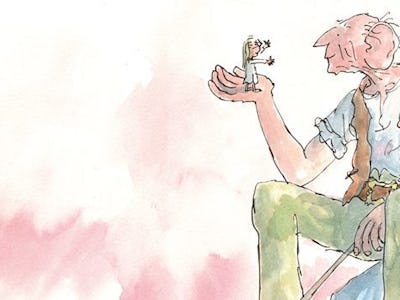 www.facebook.com/TheBFGByRoaldDahl
After treading in more adult territory with Bridge of Spies, Lincoln, and War Horse, Steven Spielberg's newest movie goes back to the genre that basically put him on the map. Disney has just released a teaser trailer for his latest film, an adaptation of author Roald Dahl's beloved children's book, The BFG, which opens in theaters on July 1, 2016. It looks, in a word, magical.
Weirdly enough, Spielberg shot The BFG before his latest relatively low-budget Cold War-era thriller Bridge of Spies debuted last month; no doubt to leave time for the special effects wizards to sculpt all the CGI.
The BFG follows a young girl named Sophie (Ruby Barnhill) who sets out on a fantastic adventure with the Queen of England (played by Penelope Wilton) and the titular BFG (or "Big Friendly Giant," played by Bridge of Spies' Mark Rylance) to stop a group of evil giants from invading the human world. Bill Hader, Jemaine Clement, and more round out the cast.
The trailer — a teaser in every sense of the word — gives us definite Hugo vibes in terms of the 19th century-esque design and wistful tone. Hopefully, the inevitable 3D conversion on The BFG will be as immersive as Martin Scorsese's 2011 Academy Award nominated movie.
It looks to be the most fun time at a Spielberg movie since his previous crack at the children's genre, 2011's The Adventures of Tintin. It's also the latest adaptation of a Roald Dahl work, whose books have been popular movie fodder since Willy Wonka & the Chocolate Factory, and most recently director Wes Anderson's stop motion animated movie Fantastic Mr. Fox.
Spielberg fans will also take note of The BFG for another reason. The script was written by Melissa Mathison, who who died in November after a battle with cancer. Mathison was perhaps best known for penning the script for the immortal Spielberg classic, E.T.
Will The BFG be as beloved as that previous Spielberg movie? We'll surely get a few more trailers and then, of course, the movie, next summer.